Midstream365
Midstream365: Your connection to the Pipeline & Gas Journal audience. What is this?
Pipeline & Gas Journal allows marketers to connect their solutions with the PGJ audience. Pipeline & Gas Journal Online's fully customizable partner resource hubs puts your content in front of industry decision makers.
Dragos protects the most critical infrastructure from increasingly capable adversaries who wish to do it harm. Devoted to codifying and sharing in-depth industry knowledge of ICS/OT systems, Dragos arms industrial defenders around the world with the knowledge and tools to protect their systems as effectively and efficiently as possible.
Sign up to Receive Our Newsletter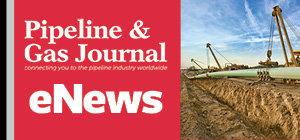 Pipeline Project Spotlight
Owner:
Gaz-System, Energinet
Project:
Baltic Pipe
Type:
Baltic Pipe will transport Norwegian natural gas from the Norwegian North Sea via Denmark to Poland.
Length:
560 miles (900 km)
Capacity:
110 Bcf per annum
Start:
Q2 2020
Completion:
Q4 2022