May 2012, Vol. 239 No. 5
Business Meetings & Events
May 2012 Ad Index
Advertisers from the print edition of Pipeline & Gas Journal, May 2012, Vol. 239 No. 5.
Editor's Notebook
Editor's Notebook: The Western Front
We headed west on Interstate 10 to San Antonio for the midyear INGAA Foundation conference last month and couldn't help being impressed by the constant parade of 18-wheelers carrying line pipe, drill pipe and so many other products to the booming Eagle Ford Shale. Matter of fact, we heard there's nary a hotel room to be found west of San Antonio.
Features
Government
Administration Makes Two Regulatory Moves On Oil And Gas Operations
The Obama administration took its first two regulatory steps, one final, one tentative, toward guarding against air and ground water pollution from fracking. The final rule on air emissions from the Environmental Protection Agency (EPA) and proposed rule from the Department of Interior (DOI) covered different regulatory terrain.
In The News
Projects
Sign up to Receive Our Newsletter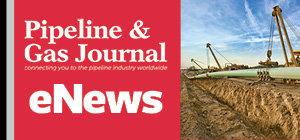 Pipeline Project Spotlight
Owner:
East African Crude Oil Pipeline Company
Project:
East African Crude Oil Pipeline (EACOP)
Type:
TotalEnergies in discussions with a Chinese company after Russian supplier Chelpipe was hit by sanctions.
Length:
902 miles (1,443 km)
Capacity:
200,000 b/d
Start:
2022
Completion:
2025