August 2017, Vol. 244, No. 8
Company & Association News
Business News
INGAA Foundation The INGAA Foundation named industry veteran Jason M. Goldstein as executive director upon the Aug. 31 retirement of Richard Hoffmann. Goldstein will manage the Foundation's technical and economic studies, implementing its strategic plan and overseeing the planning and studies devel..
Features
Government
Government
An overview of the latest pipeline regulations, as featured in the August 2017 issue.
In The News
In the News
PG&E Employees' Rescue Efforts Earn AGA Meritorious Service Award What began as a routine meter maintenance job turned into a rescue mission and led to an American Gas Association Meritorious Service Award for Michael Garcia and Miguel Hernandez of Pacific Gas & Electric. The AGA award is presented..
World News
Cepsa Celebrates 30 Years in Algeria Madrid-based Cepsa celebrated its 30th anniversary of uninterrupted operations in Algeria at a recent event attended by Spanish and Algerian officials and representatives from Cepsa, Sonatrach and Mobadala. Algeria has played a key role in Cepsa's growth which ..
Projects
Projects
An overview of the latest pipeline construction projects worldwide, as featured in the August 2017 issue.
Q&A
Rich Hoffmann Leaves INGAA Foundation Bigger and Better
Rich Hoffmann, the popular executive director for the INGAA Foundation, is retiring on Aug. 31 after 10 years of service. In this interview, he looks back on his tenure, and suggests what his successor, Jason Goldstein, can expect. P&GJ: Looking back, Rich, what was your goal when you came to the F..
TechNotes
DNV GL Updates RP for Free-Spanning Pipelines
Offshore pipeline spans, due to uneven seabed or seabed erosion processes, can require huge and costly seabed interventions. The DNV GL recommended practice (RP) on free-spanning pipelines has been widely applied in industry to solve the problems related to free spans in pipeline design and operatio..
Identifying Girth Weld Cracking Threats in CRA Cladded Pipes
In 2013, a new gas line with internal stainless steel CRA cladding experienced a failure. This 16-inch pipeline was commissioned early in the year and occasionally used. The failure consisted of circumferential cracking in a girth weld at a pipe bend. The investigation team recommended a complete in..
What's New
What's New
An overview of what's new in technology that can be used on pipeline construction projects, as featured in the August 2017 issue.
Sign up to Receive Our Newsletter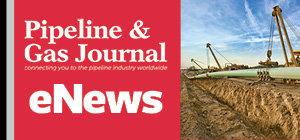 Pipeline Project Spotlight
Owner:
East African Crude Oil Pipeline Company
Project:
East African Crude Oil Pipeline (EACOP)
Type:
TotalEnergies in discussions with a Chinese company after Russian supplier Chelpipe was hit by sanctions.
Length:
902 miles (1,443 km)
Capacity:
200,000 b/d
Start:
2022
Completion:
2025