Time to Look Ahead (and Back)
By Michael Reed, Editor-in-Chief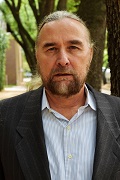 With 2020 finally behind us, many in the U.S. midstream sector have found time to take a deep breath to recalibrate the coming year, and they have certainly earned the right to do so. 
Through hard work they have survived the chaos wrought by COVID-19, which although still very much with us, should be subsiding with the arrival of at least two effective vaccines, and more on the way. Additionally, projections have been surprisingly good for pipeline companies, all things considered. 
Still, I can't help but think that when projects start being advanced again a familiar foe will be lying in wait – that being the ever-vigilant anti-pipeline coalition.
For anyone still unimpressed with the effectiveness of these groups, or who continues to write them off as clueless, wild-eyed radicals who randomly chain themselves to bulldozers, perhaps a brief historical recap will serve as a reminder. 
Let's start with the Constitution pipeline, which in theory now should be transporting gas from fracking operations in Pennsylvania to across the south of New York state, en route to Albany, 124 miles (200 km) to the west.  
Considered a sure thing to be online after the Federal Energy Regulatory Commission (FERC) approved the project in 2014, it was abandoned by Williams six years later, following a string of legal battles and costly delays. Since then, for the most part, where communities and activists have stood against pipelines, it has not gotten better, particularly in the eastern U.S. 
There have been other examples: Pilgrim Pipelines, designed to ship fracked crude oil from New York to New Jersey, was abandoned in 2017 and in May the Northeast Supply Enhancement pipeline was canceled – both due to protests and legal challenges.  
In total, years of coordinated grassroots opposition has prevented the construction of 931 miles (1,498 km) of interstate pipeline across the northeast, including 448 miles (721 km) within New York, according to research done by non-profit environmental magazine Grist. 
While it would be easy enough (though not particularly wise) to write off New York as an anomaly in terms of the region's resistance to pipelines, which to some extent it is, this impasse in the Empire State has affected the flow throughout New England and to some extent Canada. 
Beyond New York, there are certainly other examples, as well.  
Dominion Energy and Duke Energy's July cancellation of the 600-mile (965-km) Atlantic Coast Pipeline from West Virginia to North Carolina, which the companies blamed on "recent developments [that] have created an unacceptable layer of uncertainty and anticipated delays" comes immediately to mind. 
Further west, Keystone XL most famously faced protests, delays and legal challenges for over a decade before finally having its permit pulled by incoming President Joe Biden on the day of his inauguration. Additionally, the 570,000-bpd Dakota Access pipeline (DAPL) has been threatened with being shut down, even after having been online for a year.
That is why, as midstream leaders ponder the future as they begin to bounce back from the pandemic and reduced demand, it is imperative for companies to engage communities directly and early in the planning process. Resistance should be anticipated and countered with fact-based information. 
To ensure a level playing field, the merits of each individual project must be proactively communicated to engage stakeholders in open, pragmatic discussions that are held within the communities that are affected. 
Proponents must address concerns with clarity if they hope to end controversy. The public is quick to grow concerned, but if its apprehensions are addressed in a transparent manner, those attempting to block a project will be met by their neighbors with arguments favoring reduced costs and more jobs. 
Pipeline associations and companies must be willing to engage the public, regulatory agencies and other stakeholders at every turn. The outreach playbook from which a project team operates must be thoroughly developed and embraced at all levels. 
Hopefully by recalling the frequently unpleasant history of recent years, we can avoid similar outcomes in the future.
Related Articles