Russia Says Shale Will Affect Oil Prices More Than Irans Return
7/25/2015
While many observers believe the deal Iran struck with six world powers over its nuclear program may depress oil prices even further, Russia's energy minister says the cost of producing shale oil is likely to have an even bigger impact on the world market.
Iran's deputy oil minister, Mansour Moazami, said his country's crude exports would nearly double eventually from 1.2 MMbpd to 2.3 MMbpd once the sanctions are lifted, and Tehran has urged fellow OPEC members to adjust their output accordingly in order to keep prices stable.
Speaking with reporters July 16, Russian Energy Minister Alexander Novak said it appears that the world market, if not OPEC itself, has done just that.
"I think there will be no significant impact because the market has already weighed in [the expected increase in Iranian supplies]," he said. "The cost of shale oil production will have a more significant impact on prices."
The minister noted that, on average, the cost of producing shale is now between $50 and $65 per barrel, about the same market price of a barrel of oil today. For now, at least, that leaves many shale producers in the United States will little or no profit margin.
But if the price of oil rises, U.S. shale drilling would increase. So far, Novak said, the low price of crude has cut the number of drilling rigs in the United States by nearly two-thirds, from 1,600 to 650. But he noted that shale drilling is becoming more efficient and less expensive thanks to improvements in technology. For many drillers, he said, "shale is feeling very well" even at today's low prices.
In fact, Statoil, Norway's government-run energy company, lately has been producing shale more efficiently in the Eagle Ford shale field in southern Texas. It's cut the number of its rigs there from three to two since 2014, yet it has managed to increase production by fully one-third.
At the same time, Statoil has reduced its average drilling costs from $4.5 million to $3.5 million per well, in part by accelerating drilling from 21 days to 17 by both more efficient planning and laying off crews that work more slowly.
But how OPEC responds to Iran's return is still not clear, Novak said, because there is no word yet whether the cartel's other 11 members will reduce their own production. The group's agreed-on limit is 30 MMbpd, but production has been exceeding that by at least 1 MMbpd for quite some time.
Novak said he and Abdullah al-Badri, OPEC's secretary-general, will meet in Moscow on July 30 to "discuss the situation on the oil and gas market on the whole, taking into account the lifting of sanctions on Iran."
In June, Novak met in Russia with Saudi Oil Minister Ali al-Naimi, where the two agreed that there was no need for either his country or OPEC to reduce oil production because they believed that the market alone will dictate the price of crude.
Russia, too, has no plans to cut production, Novak said. It has been producing oil at a rate of more than 10 MMbpd, a record high since the breakup of the Soviet Union, and is expected to keep output at that level in 2016.
Related News
Related News
Sign up to Receive Our Newsletter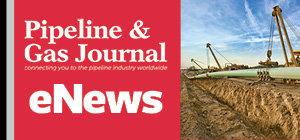 Pipeline Project Spotlight
Owner:
East African Crude Oil Pipeline Company
Project:
East African Crude Oil Pipeline (EACOP)
Type:
TotalEnergies in discussions with a Chinese company after Russian supplier Chelpipe was hit by sanctions.
Length:
902 miles (1,443 km)
Capacity:
200,000 b/d
Start:
2022
Completion:
2025