Local Fracking Bans Could Go Before Colorado High Court Soon
8/18/2015
DENVER (AP) — Colorado's battle over who should regulate fracking could be on the fast track to the state Supreme Court.
The Colorado Court of Appeals on Monday asked to bow out of lawsuits over Longmont's ban on fracking and a 5-year-moratorium in Fort Collins.
The move would allow the Supreme Court to take the cases immediately, without waiting for the appeals court to hear arguments and make rulings. The higher court hasn't said if it will take the cases.
Local voters approved a ban in Longmont in 2012 and a moratorium in Fort Collins in 2013, prompting lawsuits from the Colorado Oil and Gas Association, an industry group.
Lower courts overturned the ban and the moratorium, saying regulation is the state's prerogative.
The cities asked the Court of Appeals to restore their restrictions. But the court asked to step aside, saying the issues are significant and will eventually wind up before the state Supreme Court.
Longmont officials were reviewing the decision and had no immediate comment. Fort Collins officials didn't immediately return a call.
The Colorado Oil and Gas Association welcomed the development, saying "the illegality of bans and moratorium on hydraulic fracturing can be confirmed once and for all in Colorado."
Several groups that intervened in the Longmont lawsuit, seeking to uphold the ban, also praised the move, saying it reflects the legitimacy of Longmont's rules. The groups include Our Longmont and Food & Water Watch.
The industry says fracking is safe and has helped fuel an oil and gas boom in Colorado — the nation's No. 7 energy producing state — and elsewhere.
Regulating fracking has been a simmering issue in Colorado for a year, centering on whether local governments have the power to impose stricter rules than the state.
Opposing groups filed initiatives for the November 2014 ballot, but the measures were withdrawn in a truce negotiated by Gov. John Hickenlooper. He then appointed a task force that eventually proposed giving local governments a consulting role but not the power to set their own rules.
That disappointed fracking critics. On Monday, a group called Coloradans for Community Rights took the first step toward another ballot measure that would let local governments regulate oil and gas drilling. Like all ballot proponents, the group needs state approval of the language before gathering petition signatures to get the issue before voters.
The measure was quickly denounced as a job-killer by Protecting Colorado's Environment, Economy and Energy Independence, which defends the oil and gas industry.
Related News
Related News
Sign up to Receive Our Newsletter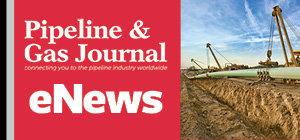 Pipeline Project Spotlight
Owner:
East African Crude Oil Pipeline Company
Project:
East African Crude Oil Pipeline (EACOP)
Type:
TotalEnergies in discussions with a Chinese company after Russian supplier Chelpipe was hit by sanctions.
Length:
902 miles (1,443 km)
Capacity:
200,000 b/d
Start:
2022
Completion:
2025