NAPCA Workshop Looks at Changing Energy Environment
8/21/2015
NAPCA held its annual one-day workshop Thursday in Houston as the industry struggles to find solutions amid market conditions that can be characterized as anything but certain.
As one speaker, Dolty Cheramie, president of Pipe Exchange, put it, ""No CEO or anyone else has one single minute of experience in the market we are in today."
During his presentation, "A Look at the Oilpatch," Cheramie didn't pull any punches in what he saw a rough sledding for at least the next couple of years.
"The big gorilla (China) that eats everything is slowing down," he said, which has caused oversupply problems both in and outside the energy industry.
He went on to say the process of "refracking," which involves hitting low-output wells for a second time to increase the flow of crude oil would, in his opinion, would become as "monumental" to the industry as fracking had been before it. He pointed out that 90% of what was initially targeted is still in the ground, and the process would not involve the cost of digging a new hole.
Earlier, Danny Richard, of Safety Cultures, who described himself as a "motivational teacher," discussed the "power of building relationships" in order to boost an accident-free workplace.
Other speakers included Matt Dabiri, a principal engineer with Williams, who discussed coating failures; and Joseph Walker, vice president of Elcometer, Inc., who addressed problems associated with digital inspection equipment and quality control in the coating industry.
After Managing Director Merritt B. Chastain III, welcomed attendees, Tom Ball, NAPCA president, thanked those gathered for braving the traffic and weather, which featured downpours throughout the day. It was the 20th year in row NACPA has held the event at the Post Oak Hilton Hotel.
Related News
Related News
Sign up to Receive Our Newsletter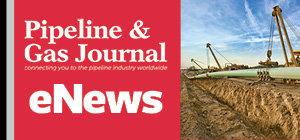 Pipeline Project Spotlight
Owner:
East African Crude Oil Pipeline Company
Project:
East African Crude Oil Pipeline (EACOP)
Type:
TotalEnergies in discussions with a Chinese company after Russian supplier Chelpipe was hit by sanctions.
Length:
902 miles (1,443 km)
Capacity:
200,000 b/d
Start:
2022
Completion:
2025