Colorado's High Court to Decide if Cities Can Ban Fracking
9/21/2015
DENVER (AP) — The Colorado Supreme Court agreed Monday to decide whether cities can ban hydraulic fracturing, stepping into a high-stakes battle over whether local governments can impose tougher oil and gas rules than the state.
The court will hear cases from Longmont, where voters banned hydraulic fracturing in 2012, and Fort Collins, where voters approved a 5-year moratorium in 2013.
The Colorado Oil and Gas Association sued the two cities, and lower courts overturned the local restrictions, saying regulation is the state's prerogative. The cities and several environmental groups appealed.
Hydraulic fracturing, or fracking, injects a high-pressure mix of water, sand and chemicals underground to crack open formations and make it easier to recover oil and gas. It's a widespread practice that led to an energy boom in Colorado, the nation's No. 7 energy-producing state, and elsewhere.
The state Supreme Court's decision could settle a long-simmering battle fought on multiple fronts in Colorado, including public health, the environment and property rights.
"I would say this is pretty huge," said Tanya Heikkila, an associate professor at the University of Colorado Denver who studies fracking policy debates.
The state has generally taken the position that only it has the power to regulate the oil and gas industry, and that local governments can participate in decisions about how drilling and fracking occur but not whether it should be allowed.
"Local governments obviously still want some say in the 'whether,'" Heikkila said. "The Supreme Court decision will clarify that issue."
Critics say fracking endangers public health and underground water supplies. The industry maintains it is safe.
Fracking has also intensified battles over property rights in Colorado. Landowners — sometimes called surface owners — often don't own the rights to the minerals underneath their property, setting up disputes over where and how the mineral owners can drill. Noise, lights and health worries generate complaints when drilling rigs set up near homes or schools.
New York state has banned fracking, citing environmental and public health risks. Energy-rich Texas and Oklahoma enacted laws in May that prevent local governments from banning fracking.
One of the proponents of the Longmont ban, a group called Our Longmont, welcomed the Supreme Court's decision to weigh in.
"This is an issue with profound consequences for our community and its residents," Our Longmont President Kaye Fissinger said.
Officials with Longmont, Fort Collins and the Colorado Oil and Gas Association didn't immediately return calls seeking comment.
The court didn't indicate when it might rule.
Related News
Related News
Sign up to Receive Our Newsletter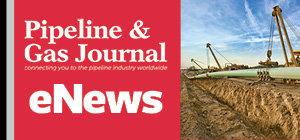 Pipeline Project Spotlight
Owner:
East African Crude Oil Pipeline Company
Project:
East African Crude Oil Pipeline (EACOP)
Type:
TotalEnergies in discussions with a Chinese company after Russian supplier Chelpipe was hit by sanctions.
Length:
902 miles (1,443 km)
Capacity:
200,000 b/d
Start:
2022
Completion:
2025