Royal Flush? West Texas Fracking Company Uses Toilet Water to Cut Cost
9/3/2015
It is no secret that fracking companies across the United States have been turning over every rock in the supply chain looking for ways to cut costs and improve efficiency. That's what the business requires in a downturn.
But now Pioneer Natural Resources seems to be going a step further in the name of price cuts and efficiency. The firm is finding an efficient, if somewhat unconventional, source of water for use in its fracking operations – the neighbors' toilets.
Pioneer recently signed an 11-year, $117 million deal with the city of Odessa, TX giving Pioneer the rights to treated sewage from toilets, sinks and showers across the city. The firm will start getting waste water deliveries by the end of the year. Of course, since the water is treated, it's actually perfectly safe and would likely even be potable with, at most, a little more treatment.
After all, most cities more or less run on the basis of using the same water over and over again. But Pioneer's move is a clever one in that people don't like to think about reusing waste water and this is a good way to get access to large quantities of water in the dry region.
The Odessa-Pioneer deal makes a lot of sense given Pioneer needs the water and places a high value on it in light of its economic usefulness. In contrast, Odessa city officials indicated that the treated water was mostly used for irrigation, so diverting it to Pioneer makes more sense economically.
In addition of course, by giving Pioneer access to waste water, the company can now avoid using the potable water it previously relied upon. Overall then, the agreement gives Pioneer lower quality water supplies that it has a lot of use for, and frees up higher quality water supplies for other uses.
The deal could be the start of a trend. EOG is looking at its own wastewater deals, while Anadarko uses waste water from the city of Aurora, CO.
Water costs in fracking are expensive, but most major firms including Pioneer have been working on improving efficiency on that front. Pioneer's deal with Odessa has been in the works for a while now and has evolved over time especially as oil prices plummeted.
The firm looks set to buy water for around $6.33 per thousand gallons in the first year of the deal. By the end of the deal, the rate increases to $7.14 per thousand gallons plus a $0.33 maintenance fee. That means that Pioneer will receive roughly 18 billion gallons of water. At an average price per thousand gallon of about $6.75 that totals $120 million over the next 10 years.
Since Pioneer would have had to get that water somewhere else if it didn't get it from Odessa, the deal is the equivalent of annually freeing up about 16,000 gallons of water per person in the city of 110,000.
Related News
Related News
Sign up to Receive Our Newsletter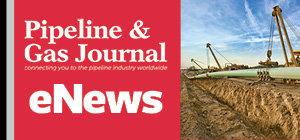 Pipeline Project Spotlight
Owner:
East African Crude Oil Pipeline Company
Project:
East African Crude Oil Pipeline (EACOP)
Type:
TotalEnergies in discussions with a Chinese company after Russian supplier Chelpipe was hit by sanctions.
Length:
902 miles (1,443 km)
Capacity:
200,000 b/d
Start:
2022
Completion:
2025