ONEOK to Expand Pipelines to Serve STACK Growth
6/19/2017
ONEOK, Inc. today announced plans to expand its Mid-Continent natural gas liquids gathering system and its existing Sterling III Pipeline. The expansions, which are backed by a long-term contract with a subsidiary of EnLink Midstream Partners, LP and EnLink Midstream, LLC, will help accommodate expected volume growth from current and certain future EnLink natural gas processing plants in the STACK play in western Oklahoma along with expected growth from other customers in the region.
"Producers continue to accelerate their investments in the STACK due to the higher-return economics driven by strong crude oil and NGL-rich natural gas production rates," said Terry K. Spencer, ONEOK president and chief executive officer. "This expansion of our NGL gathering system further underscores our ability to meet the NGL service needs of STACK-area natural gas processors and demonstrates our continued commitment to providing reliable high-quality service to our customers."
Expansions include increasing capacity on the Sterling III Pipeline to 250,000 bpd from 190,000 bpd and connecting ONEOK's Arbuckle Pipeline to EnLink's Cajun-Sibon Pipeline in southeast Texas. ONEOK's Sterling III Pipeline transports either unfractionated NGLs or NGL purity products between ONEOK's Mid-Continent NGL infrastructure and similar facilities on the Gulf Coast in Mont Belvieu, Texas.
ONEOK expects to invest approximately $130 million for these projects, which are expected to be complete by the end of 2018.
ONEOK's natural gas liquids segment currently gathers 150,000 to 200,000 bpd of NGLs out of the STACK and SCOOP plays and is connected to more than 100 third-party natural gas processing plants in the Mid-Continent. The NGL volumes from the EnLink plant connections and other production are part of an incremental 100,000 bpd of expected NGL supply out of the STACK and SCOOP plays that ONEOK expects to add to its system by the end of 2018.
In addition, to support the increasing producer activity in the STACK and SCOOP on dedicated acreage in the natural gas gathering and processing segment, ONEOK has entered into a long-term processing services agreement with a third party to gain access to an additional 200 million cubic feet per day (MMcf/d) of natural gas processing capacity in this region.
"This agreement provides an attractive option for timely access to existing natural gas processing capacity to better serve the rapid growth occurring on our dedicated acreage," Spencer said.
ONEOK plans to connect its extensive natural gas gathering system to the existing third-party natural gas processing facility in northern Oklahoma by constructing a nearly 30-mile natural gas gathering pipeline and related infrastructure through the core of the STACK play in Blaine County, Oklahoma. The pipeline is expected to cost approximately $40 million and be completed by the end of 2017.
This third-party plant already is connected to ONEOK's existing NGL gathering system and is expected to provide incremental NGL volumes as natural gas processing volumes increase.
Related News
Related News
Sign up to Receive Our Newsletter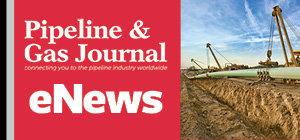 Pipeline Project Spotlight
Owner:
East African Crude Oil Pipeline Company
Project:
East African Crude Oil Pipeline (EACOP)
Type:
TotalEnergies in discussions with a Chinese company after Russian supplier Chelpipe was hit by sanctions.
Length:
902 miles (1,443 km)
Capacity:
200,000 b/d
Start:
2022
Completion:
2025