Expansion of Canada's Trans Mountain Pipeline in Doubt
4/9/2018
TORONTO (AP) — Kinder Morgan's controversial Trans Mountain pipeline expansion project that would nearly triple the flow of oil from Canada's oil sands to the Pacific Coast was in doubt Sunday after the company announced a suspension in all non-essential activities and related spending on the project.
The company said its decision was based on the British Columbia government's opposition to the project, which has also been the focus of sustained protests at Kinder Morgan's marine terminal in Burnaby, British Columbia.
Kinder Morgan said it would consult with "various stakeholders" to try to reach an agreement by May 31 that might allow the project to proceed.
Canadian Prime Minister Justin Trudeau has insisted the project should be completed despite the angry protests and the British Columbia government's continued battle against it in the courts. The federal government urged British Columbia on Sunday to stop delaying the pipeline project.
The Trans Mountain pipeline expansion by the Canadian division of Texas-based Kinder Morgan would dramatically increase the number of oil tankers traveling the shared waters between Canada and Washington state. Trudeau approved the project in late 2016, saying it was in Canada's best interest.
Kinder Morgan said it was caught in a tough spot.
"We have determined that in the current environment, we will not put KML shareholders at risk on the remaining project spend," Steve Kean, the company's chairman and chief executive officer, said in a statement. "A company cannot resolve differences between governments. While we have succeeded in all legal challenges to date, a company cannot litigate its way to an in-service pipeline amidst jurisdictional differences between governments."
Kean said the uncertainty around the company's ability to finish the project "leads us to the conclusion that we should protect the value that KML has, rather than risking billions of dollars on an outcome that is outside of our control."
The project has drawn legal challenges and opposition from environmental groups and Native American tribes as well as from municipalities such as Vancouver and Burnaby. It's also sparked a dispute between the provinces of Alberta, which has the world's third largest oil reserves, and British Columbia. About 200 people have been arrested near Kinder Morgan's marine terminal in Burnaby during recent protests.
Trudeau said in a tweet that Canada is a country of "the rule of law" and "access to the world markets for Canadian resources is a core national interest. This Trans Mountain expansion will be built."
His administration called on British Columbia Premier John Horgan's leftist government to end all threats of delay to the expansion. "His government's actions stand to harm the entire Canadian economy," Natural Resource Minister Jim Carr said in a statement.
The premier of oil-rich Alberta, Rachel Notley, urged the federal government to intervene. "A federal approval of a project must be worth more than the paper it's written on," Notley said.
Opponents say increasing the flow of oil sent by pipeline and boosting the number of ships to transport it would increase the risks of oil spills and potential harm to fish, orcas and other wildlife.
Supporters say the expansion of the pipeline, which has operated since 1953, would give Canada access to new global markets, provide jobs and millions of dollars in economic benefits and could be done responsibly.
Canada needs infrastructure to export its growing oil sands production. Alberta is the United States' largest supplier of foreign oil.
Trudeau's government has been trying to balance the oil industry's desire to tap new markets with environmentalists' concerns. Though he approved Trans Mountain, he rejected Enbridge's Northern Gateway pipeline to Kitimat, British Columbia.
Related News
Related News
Sign up to Receive Our Newsletter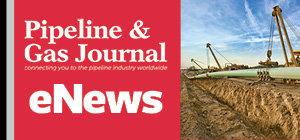 Pipeline Project Spotlight
Owner:
East African Crude Oil Pipeline Company
Project:
East African Crude Oil Pipeline (EACOP)
Type:
TotalEnergies in discussions with a Chinese company after Russian supplier Chelpipe was hit by sanctions.
Length:
902 miles (1,443 km)
Capacity:
200,000 b/d
Start:
2022
Completion:
2025