Sources: Petrobras scraps Liquigas IPO
4/25/2018
SAO PAULO, April 25 (Reuters) - Petroleo Brasileiro SA has given up on the idea of selling its Brazilian liquefied petroleum gas (LPG) unit through an initial public offering (IPO) and decided to reopen a sale process, three people with knowledge of the matter said.
The state-controlled oil company has not yet set a date for interested companies to deliver bids and is still discussing the best way to avoid problems with antitrust authorities, the sources added, asking for anonymity because talks are private.
Petrobras, as the company is known, has sounded out banks and investors for a potential IPO of Liquigas Distribuidora SA, but advisers said it would be a hard sell, especially to international investors, according to the sources.
Liquigas sells gas cylinders, used mainly for cooking in Brazilian households not served by gas pipelines — a segment unfamiliar to investors in more developed markets.
Petrobras had agreed to sell the subsidiary to a unit of Ultrapar Participações SA in 2016 for 2.8 billion reais ($800 million), but Brazilian antitrust watchdog Cade blocked the deal. Ultragaz, a unit of Ultrapar, is Brazil's largest LPG distributor and Liquigas is the second biggest.
In talks with banks, Petrobras has discussed how to structure the sale process without triggering antitrust issues.
The easiest solution would be a sale to foreign buyers with similar businesses, such as Turkey's Aygaz AS or Chile's Empresas Copec SA, sources said.
Some of the Brazilian rivals that bid for the asset are still interested, such as Copagaz Distribuidora de Gas. But a sale to a Brazilian rival would be trickier, and some representatives of Brazilian companies have been lobbying Petrobras to break up the subsidiary before the sale, one of the sources said.
A third option would be to require proposals that already include remedies for potential antitrust concerns. So far, no decision has been taken, the sources added.
Petrobras responded to a request for comment by referring to a previous securities filing in which it said details of the deal had not been defined. Copagaz, Aygaz and Copec did not immediately comment on the matter.
Related News
Related News
Sign up to Receive Our Newsletter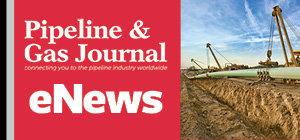 Pipeline Project Spotlight
Owner:
East African Crude Oil Pipeline Company
Project:
East African Crude Oil Pipeline (EACOP)
Type:
TotalEnergies in discussions with a Chinese company after Russian supplier Chelpipe was hit by sanctions.
Length:
902 miles (1,443 km)
Capacity:
200,000 b/d
Start:
2022
Completion:
2025