Enable Midstream Expands Anadarko, Williston Systems
10/24/2018
Enable Midstream Partners announced it is significantly expanding its crude oil midstream business with the acquisition of Tulsa-based Velocity Holdings andtoday's announcement of agreements in two of the country's most active crude plays. In the Anadarko Basin, Enable has signed a definitive agreement to acquire Velocity Holdings, LLC ("Velocity"), an integrated crude oil and condensate gathering and transportation company in the SCOOP and Merge plays, for $442 million, subject to certain post-closing adjustments. In the Williston Basin, Enable has entered into new contractual commitments for a substantial expansion of the company's crude and water gathering systems driven by significant producer activity and a backlog of drilled but uncompleted wells from over 90,000 gross acres of dedication.
"Today's announcements continue Enable's strategy of extending our reach across the midstream value chain by significantly expanding our crude business," said Enable Midstream President and CEO Rod Sailor. "The Velocity acquisition builds on Enable's market-leading Anadarko Basin midstream platform that now offers customers complete wellhead-to-market solutions for both natural gas and crude. The combination of the Velocity acquisition and the expansion of our Williston Basin assets increases the scale and contribution of our crude and water businesses, providing for fee-based growth as producers continue to target crude oil production."
Taken together, Enable expects the two crude business expansions to generate a 2019 total capital invested to Adjusted EBITDA multiple of approximately 13 times, working down to below a 10-times multiple by 2020. These expansions are expected to be accretive to distributable cash flow per unit starting in 2019. Enable does not expect to raise common equity to finance the Velocity acquisition.
VELOCITY ACQUISITION
The Velocity acquisition builds on Enable's market-leading natural gas gathering and processing infrastructure position in the prolific SCOOP and Merge plays that have attracted substantial producer activity with some of the best well economics in the country. The Velocity crude and condensate system is comprised of approximately 150 miles of pipeline capable of flowing approximately 225,000 barrels per day (bpd), along with over 400,000 barrels of owned and leased storage and 26 truck bays capable of unloading more than 100,000 bpd. Included in these assets is Velocity's 60 percent interest in a 26-mile pipeline system joint venture with a third party that owns and operates a refinery connected to the Velocity system. Velocity's operations are backed by large area dedications and long-term, fee-based contracts with over 2 million acres dedicated from shippers, including acreage dedications from top SCOOP and Merge producers.
The Velocity acquisition will give Enable an integrated crude and natural gas midstream platform in the Anadarko Basin, enhancing Enable's business development prospects, strengthening relationships with key current customers and providing the opportunity for operational synergies. Producers have dedicated additional rigs to the oil-rich SCOOP and Merge plays over the past year, and the move to pad drilling in these areas is expected to increase demand for crude oil gathering services. As the only integrated crude oil and condensate gathering and transportation system in the SCOOP and Merge plays, the Velocity system is poised for sustained growth from both new customers and the substantial drilling inventory of current customers on the system.
Enable received early termination of the waiting period under the Hart–Scott–Rodino Antitrust Improvements Act on Oct. 19 and expects to close the Velocity acquisition on or about Nov. 1, following the satisfaction of remaining pre-closing conditions.
WILLISTON BASIN EXPANSION
In the Williston Basin, Enable plans to further expand its existing crude oil and water gathering systems to support volumes from over 90,000 gross acres dedicated to Enable in North Dakota's Dunn and McKenzie counties under long-term, fee-based agreements. Subject to future drilling plans, Enable will add up to 72,000 bpd of crude oil gathering design capacity, increasing total Williston Basin crude gathering capacity to up to approximately 130,000 bpd. Enable expects to start gathering volumes associated with these system expansions in the first half of 2019, including volumes from a significant number of drilled but uncompleted wells.
ABOUT ENABLE MIDSTREAM PARTNERS
Enable owns, operates and develops strategically located natural gas and crude oil infrastructure assets. Enable's assets include over 13,300 miles of natural gas and crude oil gathering pipelines, approximately 2.6 Bcf/d of processing capacity, approximately 7,800 miles of interstate pipelines (including Southeast Supply Header, LLC of which Enable owns 50 percent), approximately 2,200 miles of intrastate pipelines and eight storage facilities comprising 86.0 billion cubic feet of storage capacity. For more information, visit http://www.enablemidstream.com.
Related News
Related News
Sign up to Receive Our Newsletter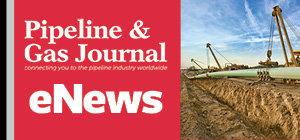 Pipeline Project Spotlight
Owner:
East African Crude Oil Pipeline Company
Project:
East African Crude Oil Pipeline (EACOP)
Type:
TotalEnergies in discussions with a Chinese company after Russian supplier Chelpipe was hit by sanctions.
Length:
902 miles (1,443 km)
Capacity:
200,000 b/d
Start:
2022
Completion:
2025