FERC Approves Atlantic Sunrise for Full Service; Williams Plans Oct. 6 Start
10/4/2018
Williams reported that it received final approval from the Federal Energy Regulatory Commission (FERC) and plans to begin full service on its Atlantic Sunrise project this Saturday, adding 1.7 Bcf/d of long-awaited pipeline takeaway capacity from the Marcellus Basin and boosting design capacity of the nation's largest-volume natural gas pipeline system by 12%.
Atlantic Sunrise increases total capacity on the Transco pipeline to 15.8 Bcf/d while strengthening and extending its bi-directional flow , directly connecting Marcellus gas supplies with markets as far south as Alabama.
"The project is significant for Pennsylvania and natural gas-consuming markets all along the East Coast, alleviating infrastructure bottlenecks and providing millions of consumers direct access to one of the most abundant, cost-effective natural gas supply sources in the country," said Alan Armstrong, Williams president and chief executive officer.
Greenfield construction on the Pennsylvania portion of the project began in September 2017. The project featured the installation of 186 miles of greenfield pipe, 12 miles of pipe looping, 2.5 miles of pipe replacement, two new compressor stations and compressor station modifications in five states.
Gene Barr, president and CEO of the Pennsylvania Chamber of Business and Industry, said Atlantic Sunrise "has been a tremendous economic boom that will no doubt yield benefits, both economic and environmental, for the commonwealth for decades to come."
The greenfield segment of the Atlantic Sunrise project, known as the Central Penn Line, is jointly owned by Transco and Meade Pipeline Co LLC (Meade). Meade is owned by WGL Midstream, Cabot Oil and Gas and EIF Vega Midstream.
Throughout the permitting and construction process, Williams said, the company worked closely with permitting agencies to minimize environmental and stakeholder impacts, making modifications to more than half of the original pipeline route. The company also worked with local stakeholders to provide an additional $2.5 million for environmental conservation projects located within the project area.
Transco delivers natural gas to customers through its more than 10,000-mile network with a mainline extending 1,800 miles from South Texas to New York City. The system is a major provider of natural gas services to U.S. markets in 12 Southeast and Atlantic Seaboard states, including metropolitan areas in New York, New Jersey and Pennsylvania.
Williams owns and operates more than 33,000 miles of pipelines system-wide – including Transco, the largest-volume and fastest-growing pipeline in the United States. 
Related News
Related News
Sign up to Receive Our Newsletter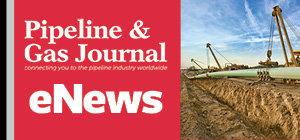 Pipeline Project Spotlight
Owner:
East African Crude Oil Pipeline Company
Project:
East African Crude Oil Pipeline (EACOP)
Type:
TotalEnergies in discussions with a Chinese company after Russian supplier Chelpipe was hit by sanctions.
Length:
902 miles (1,443 km)
Capacity:
200,000 b/d
Start:
2022
Completion:
2025