Michigan, Enbridge Agree on Line 5 Pipeline Replacement
10/3/2018
TRAVERSE CITY, Mich. (AP) — Michigan Gov. Rick Snyder's administration and Canadian pipeline giant Enbridge have agreed to replace twin 65-year-old crude oil pipes in a channel linking two of the Great Lakes with another that would run through a tunnel far below the lake bed.
The plan calls for drilling an opening for the new pipeline through bedrock at depths that could exceed 100 feet (30 meters) beneath the Straits of Mackinac, a more than 4-mile-wide (6.4-kilometer) waterway where Lakes Huron and Michigan converge, officials told the AP prior to an announcement scheduled for Wednesday. The massive engineering project is expected to take seven to 10 years to complete, at a cost of $350 million to $500 million — all of which the company would pay.
In the meantime, about 23 million gallons (87 million liters) of oil and natural gas liquids used to make propane would continue moving daily through the twin lines at the bottom of the straits. They are part of Enbridge's Line 5, which extends 645 miles (1,038 kilometers) from Superior, Wisconsin, to Sarnia, Ontario, crossing large areas of northern Michigan.
Both sides described the agreement as a win-win that eventually would get rid of the twin lines, which critics consider a time bomb that under worst-case spill scenarios could despoil the lakes and shorelines for hundreds of miles. The company insists they're in good condition and could remain in place indefinitely but has been on the defensive in recent years following discoveries of dozens of spots where protective coating has worn off, plus damage from a ship anchor strike last April.
"This answers the demand we've heard from the public to protect the Great Lakes and at the same time provide some consistent reliability for energy," Keith Creagh, director of the Michigan Department of Natural Resources, told the AP.
Enbridge spokesman Ryan Duffy said the company, based in Calgary, Alberta, "has operated Line 5 safely and reliably for decades" and cooperated with state regulators, although Snyder and other officials previously have accused Enbridge of being less than forthcoming — particularly about the coating gaps.
"We believe this agreement makes a safe pipeline even safer," Duffy said.
The deal, reached as Snyder's term winds down, is sure to be a contentious issue in the campaign to succeed him. Democratic nominee Gretchen Whitmer has pledged to shut down Line 5 if elected governor in November. Her Republican opponent, state Attorney General Bill Schuette, has endorsed the tunnel option.
Environmental groups promised a fight as rumors of the agreement spread in recent days. They contend the only safe course is to reroute Enbridge's oil away from the straits.
"Michigan gets nothing in this deal except a continued unacceptable risk to our water, while Enbridge continues to rake in massive profits and use our state as a shortcut for Canadian oil," Sean McBrearty of Clean Water Action said during a Lansing rally this week.
It wasn't immediately clear whether the next administration would have legal authority to undo the agreement. Michigan owns the straits bottomlands and granted Enbridge an easement when the pipes were laid in 1953. Creagh said any effort to revoke it would trigger a lengthy and expensive court battle.
The agreement includes provisions intended to reduce the likelihood of a leak from the existing pipes while the tunnel is built and to ensure close collaboration between Enbridge and the state after the new pipeline becomes operational, officials said.
Among them: underwater inspections to detect potential leaks and evaluate pipe coating; placement of cameras at the straits to monitor ship activity and help enforce a no-anchoring zone; a pledge that Enbridge personnel will be available during high-wave periods to manually shut down the pipelines if electronic systems fail; and steps to prevent leaks at other places where Line 5 crosses waterways.
Additionally, the deal calls for negotiating a public-private partnership between the company and the Mackinac Bridge Authority, the state agency that oversees the suspension bridge traversing the straits between Michigan's upper and lower peninsulas near the underwater pipes.
The bridge authority would help Enbridge obtain government permits for the tunnel and replacement pipeline and would assume ownership of the tunnel when completed. The agency would lease the tunnel to Enbridge for its pipeline and could work out similar arrangements with operators of electric and telecommunications cables.
The agreement also includes a process for dealing with the existing oil lines after they're deactivated, although it leaves open the question of how much of the pipe material will be removed.
Sign up to Receive Our Newsletter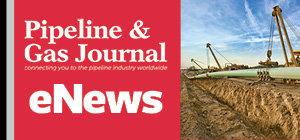 Pipeline Project Spotlight
Owner:
East African Crude Oil Pipeline Company
Project:
East African Crude Oil Pipeline (EACOP)
Type:
TotalEnergies in discussions with a Chinese company after Russian supplier Chelpipe was hit by sanctions.
Length:
902 miles (1,443 km)
Capacity:
200,000 b/d
Start:
2022
Completion:
2025