Energy Transfer Defends Mariner East 2 Plan in Pennsylvania
11/29/2018
(Reuters) - Energy Transfer LP representatives went to Pennsylvania's capital today for a hearing before utility regulators to defend the company's plan to put the Sunoco Mariner East 2 natural gas liquids pipe into service by year end.
Energy Transfer wants to temporarily connect an existing 1930s-era 12-inch (30.5-cm) pipe to the parts of its long-delayed 20-inch Mariner East 2 pipeline that it has already completed so it can start transporting liquids for customers.
Those customers have been waiting for more than a year to ship liquids on Mariner East 2. When Energy Transfer first started working on the $2.5 billion project in February 2017, it had planned to put the 350-mile (563-km) pipe into service in the third quarter of 2017.
Mariner East 2 and another Energy Transfer project, the Rover natural gas pipe from Ohio to Michigan, were delayed over the past year in part because the projects together racked up more than 800 state and federal permit violations while the company raced to build them.
Those opposed to Energy Transfer's plans for Mariner East 2 asked the Pennsylvania Public Utility Commission (PUC) to stop construction on Mariner East 2 and also stop the company from transporting liquids on the existing Mariner East 1 pipeline. Mariner East transports liquids from the Marcellus and Utica shale fields in western Pennsylvania to customers in the state and elsewhere, including international exports from Energy Transfer's Marcus Hook complex near Philadelphia.
The administrative law judge at the PUC scheduled to hear the case on Thursday is Elizabeth Barnes, the same judge who heard a case earlier this year that sought to stop the Mariner East project.
In that case, Judge Barnes ordered Energy Transfer to stop transporting gas on Mariner East 1 and stop work on Mariner East 2 in West Whiteland Township after sinkholes were discovered near the pipeline.
Mariner East 1 returned to service in June.
In the latest case, seven residents of Delaware and Chester Counties in southeast Pennsylvania argued Energy Transfer did "not provide adequate notice of procedures sufficient to ensure the safety of the public in the event of a leak or rupture."
In response a request from Pipeline & Gas Journal, Energy Transfer provided the following statement:
"We do not believe the claim is valid.  The integrity of our Mariner East 1 and Mariner East 2 pipelines has been verified in the last few months by the PUC and PHMSA through numerous tests and data collection along the routes. An example of this specific to the 12-inch section of pipeline temporarily being used for ME2 was cited in a November letter from the PUC to three school districts in which it was stated that 'Sunoco's integrity management programs and plans for the affected pipeline facilities have been reviewed and inspected by the PUC Pipeline Safety staff and PHMSA.'"
"Additionally, the 12-inch section of pipeline went through a $30 million upgrade in 2016, as part of our ongoing Integrity Management Program that applies to all our pipelines. Moreover, the safety of ME2 was acknowledged in that same PUC letter which referenced the two hydrostatic integrity tests, multiple inspections, and strategic valve placement.
"Specific to our public awareness materials, these were reviewed by the PUC as part of the stipulation for release to work in West Whiteland Township earlier this year. Based on the acceptance of these materials, we were released to work.  Energy Transfer has a comprehensive, robust Public Awareness Program (PAP) that engages the community through a variety of communications methods, including targeted brochure delivery, face-to-face liaison meetings and specialized trainings.
"All pipeline operators must develop and implement a written continuing public education program that follows the guidance provided in the American Petroleum Institute's (API) Recommended Practice (RP) 1162, which we have done and communicated with emergency response professionals along the line. We use the same wording as PHMSA in our public awareness mailers that go to all parties along the route, explaining how to identify and react to a pipeline emergency."
Related News
Related News
Sign up to Receive Our Newsletter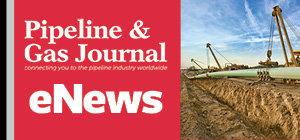 Pipeline Project Spotlight
Owner:
East African Crude Oil Pipeline Company
Project:
East African Crude Oil Pipeline (EACOP)
Type:
TotalEnergies in discussions with a Chinese company after Russian supplier Chelpipe was hit by sanctions.
Length:
902 miles (1,443 km)
Capacity:
200,000 b/d
Start:
2022
Completion:
2025