North Dakota Regulators Want to Fine Dakota Access Security Firm $2 Million
11/19/2018
BISMARCK, N.D. (AP) — North Dakota regulators are seeking up to $2 million in fines from a North Carolina company that handled security for the developer of the Dakota Access oil pipeline.
The figure is in an Oct. 30 complaint that the Private Investigative and Security Board filed against TigerSwan through the administrative process. The board is also appealing to the North Dakota Supreme Court its recent loss in a civil case it brought against the company in which it sought an unspecified amount in fines.
The board sued TigerSwan in June 2017, alleging that the company illegally operated in North Dakota without a state license in 2016 and 2017, when thousands of people who fear environmental harm from the pipeline flocked to the state to protest the project that is now moving North Dakota oil to Illinois.
TigerSwan maintained that it provided consulting services to Texas-based pipeline developer Energy Transfer Partners that don't require a North Dakota license and that any investigative work occurred in North Carolina, outside of the board's jurisdiction.
A state district judge this year dismissed the board's civil complaint, refusing to ban TigerSwan from the state and concluding that any decision on whether the company should be fined should be made administratively. That led to the appeal.
Board attorney Monte Rogneby alleges in the administrative complaint that TigerSwan had as many as a dozen people in North Dakota during the protest period, working on a range of tasks including consulting, fence engineering, report writing and information technology.
TigerSwan attorney Lynn Boughey said activities such as consulting and putting information in a report don't constitute investigative or security work under state law. He also called the fine amount the board is seeking "outrageous."
"They're trying to reimburse themselves for their foolish decision to come after the wrong people," he said.
The civil case has cost the board tens of thousands of dollars and forced it to dip into financial reserves and delay payment of some legal bills, according to records The Associated Press obtained last month through an open records request. TigerSwan also is suing the board for at least $135,000 in attorney fees.
TigerSwan is asking the state Supreme Court to dismiss the appeal.
Related News
Related News
Sign up to Receive Our Newsletter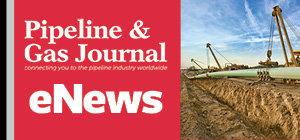 Pipeline Project Spotlight
Owner:
East African Crude Oil Pipeline Company
Project:
East African Crude Oil Pipeline (EACOP)
Type:
TotalEnergies in discussions with a Chinese company after Russian supplier Chelpipe was hit by sanctions.
Length:
902 miles (1,443 km)
Capacity:
200,000 b/d
Start:
2022
Completion:
2025