Brazil's LNG-to-Power Complex Funded; Phase 2 Underway
8/22/2019
HOUSTON (P&GJ) — The Gas Natural Açu (GNA) joint venture between Prumo Logistica, BP and Siemens – developer of Brazil's largest infrastructure project – has gained regulatory approval for LNG imports and satisfied lender conditions for $750 million in project financing to complete the 1.3 GW first phase of its LNG-to-Power complex at the Port of Açu.
EIG Global Energy Partners, Prumo Logistica's controlling shareholder, confirmed the Phase I financing and said construction has already begun on the 1.7 GW Phase 2 of the project in Rio de Janeiro state.
Upon completion, GNA's 3GW of installed capacity will supply power for up to 14 million households, making it the largest gas-to-power project in Latin America, EIG said.
Siemens announced earlier this year that it had won an order for the turnkey construction of the 1.3 GW GNA 1. The facility is the first fully integrated LNG-to-power project of this scope for Siemens, including the construction of a 1.3 GW power plant as well as an LNG import and regasification terminal, a substation and a transmission line to connect the plant to the grid. Siemens developed the project together with its partners BP and Prumo and is building the combined power plant turnkey in consortium with the Brazilian construction company Andrade Gutierrez.
For that project, Siemens will deliver a complete power island with three H-class gas turbines, one steam turbine, four generators, a heat recovery steam generators and instrumentation and control systems, marking the first application for the Siemens H-class gas turbine in Brazil. Siemens also will provide long-term service and operation and maintenance for the power plant. The service scope includes advanced remote monitoring and diagnostics, part of the Siemens Digital Services portfolio.
BW Group's BW Magna Floating Storage Regasification Unit (FSRU) is scheduled to sail to Port Açu in December under a 23-year contract to GNA. The Magna, with carrying capacity of 173,400 cubic meters and a regasification capacity of 1 billion standard cubic feet per day (scfd), is being retrofitted Sembawang Shipyard in Singapore with ship-to-ship marine loading arms, a full reliquefication plant and a full LNG sampling system.
Port and Pipeline Infrastructure
Açu, the largest port-energy-industry complex in Brazil, also includes an oil hub, strategically important for the export of pre-salt oil, as well as processing, blending and storage. Positioned on more than 50 square miles of land, the Açu complex accommodates Very Large Crude Carrier vessels (VLCC), which have the capacity to store up to 2 MMbbl.Expansion projects include oil pipelines connected to the grid and 5.5 million bbl of storage and oil treatment facilities to serve growing export volumes.Açu Petroleo, a Prumo partnership with OilTanking, has attracted leading global oil and gas companies, including Shell, Petrobras, Galp and Equinor, as customers for its oil transshipment terminal. It is the only private terminal on the Brazilian coast, with 1.2 MMbbl/day capacity.
New Prumo Directors
EIG also announced that Prumo Logística has named three prominent industry veterans to its Board of Directors.Pedro Parente, chairman of BRF and former president of Petrobras, has joined the board together with Ieda Gomes, former President of Comgas and BP Brazil, and Franklin Feder, chairman of InterCement Participações and former President of Alcoa Latin America.
"As a Brazilian, I'm proud to be part of this effort that will create meaningful social and economic development for Brazil and the region," Parente said, adding that Prumo and the Açu complex "represent critical infrastructure in unlocking Brazil's massive pre-salt reserves and will serve as a key enabler of the Brazilian new gas market (Novo Mercado de Gás)."
"Prumo's operating momentum continues to accelerate, as exemplified by its strong operating results and its ability to attract the industry's finest talent," said R. Blair Thomas, CEO of EIG and chairman of the Prumo board of directors. "As Prumo's majority owner, EIG is gratified by the success of Prumo's recent strategic developments and commercial partnerships, and we are eager to continue to play a role in its dynamic expansion."Washington-based EIG, an institutional investor with more than $23 billion under management, specializes in private investments in energy and energy-related infrastructure on a global basis. During its 37-year history, EIG has committed more than $30 billion to the energy sector through more than 350 projects or companies in 36 countries on six continents. Its clients include many of the leading pension plans, insurance companies, endowments, foundations and sovereign wealth funds in the U.S., Asia and Europe.
Related News
Related News
Sign up to Receive Our Newsletter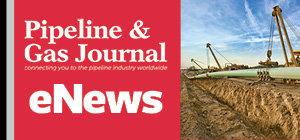 Pipeline Project Spotlight
Owner:
East African Crude Oil Pipeline Company
Project:
East African Crude Oil Pipeline (EACOP)
Type:
TotalEnergies in discussions with a Chinese company after Russian supplier Chelpipe was hit by sanctions.
Length:
902 miles (1,443 km)
Capacity:
200,000 b/d
Start:
2022
Completion:
2025