Meritage Midstream Commissions New Natural Gas Plant in Powder River Basin
3/6/2020
(P&GJ) — Meritage Midstream announced that its subsidiary, Thunder Creek Gas Services, LLC, has completed commissioning of the Steamboat I processing plant in Converse County, Wyoming, west of the town of Douglas. 
The Steamboat plant more than doubles Meritage's natural gas processing capacity in the Powder River Basin.
Meritage is a midstream provider in the Powder River Basin with 380 MMcf/d of processing capacity, 1,600 miles of gas gathering pipeline, 120 miles of NGL pipeline and 168,000 of compression horsepower (map here).
Currently, 47 percent of the rigs operating in the Powder River Basin are operating on acreage committed to Meritage Midstream's Thunder Creek system.
Steamboat Plant Details:
The new cryogenic processing plant has a nameplate capacity of 200 MMcf/d. Additionally, the Steamboat I plant is located on a site large enough to accommodate two additional 200 MMcf/d cryogenic processing plants as future demand warrants expansion.
Located in the southern portion of the basin, the Steamboat I plant complements Meritage Midstream's existing 50 Buttes plant complex located approximately 100 miles to the north in Campbell County near Gillette, Wyoming.
A new 60-mile, 20-inch trunk line connects the Steamboat I plant to the Thunder Creek gas gathering system.
Both the Steamboat and 50 Buttes processing facilities connect to Wyoming Interstate Company's (WIC) Medicine Bow Lateral for residue gas, and NGLs currently flow from both facilities through Meritage's Thunder Creek NGL Pipeline (TCNGL) to ONEOK's Niobrara Lateral and Elk Basin System. 
Multiyear Gathering and Processing Agreement:
Meritage also announced it has entered into a significant, multiyear gathering and processing arrangement with a large independent oil and natural gas producer in the Powder River Basin.
The contract provides Meritage with a minimum volume commitment from an investment-grade counterparty supporting a substantial portion of the company's gas gathering and processing capacity.
Meritage Midstream's Growth:
Meritage subsidiary Thunder Creek Gas Services connected a total of 119 wells to its system in 2019. System volumes averaged more than 170 MMcf/d in 2019.
NGL volumes transported on the Thunder Creek NGL pipeline in 2019 averaged over 10,000 barrels per day (BPD).
In 2019, 42 percent of all rigs operating in the Powder River Basin were operating on acreage committed to the Meritage's Thunder Creek system.
In 2020, Meritage expects to connect approximately 100 wells to its system and grow system volumes by over 30%. The company projects Q4 2020 system volumes to average between 250 MMcf/d and 270 MMcf/d, with NGL volumes transported on TCNGL to average approximately 18,000 to 20,000 BPD.
"With the completion of the Steamboat plant, Meritage is building on Thunder Creek's successful 16-year history of owning and operating strategic gathering, treating and processing assets in the Powder River Basin," said Meritage Midstream President Nick Thomas.
Meritage also announced that CEO Steve Huckaby has decided to leave the company to pursue new opportunities. Meritage President Nick Thomas will become CEO of Meritage Midstream effective April 1, 2020.
"I am so proud of the Meritage team and the company Nick and I built together," said outgoing CEO Steve Huckaby. "We've gone from a handful of employees in a small office in Golden, Colorado, working without an asset, to a company with over 100 employees based in Denver, Colorado, and Gillette, Wyoming, with pipelines spanning the entire Powder River Basin."
Related News
Related News
Sign up to Receive Our Newsletter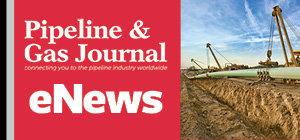 Pipeline Project Spotlight
Owner:
East African Crude Oil Pipeline Company
Project:
East African Crude Oil Pipeline (EACOP)
Type:
TotalEnergies in discussions with a Chinese company after Russian supplier Chelpipe was hit by sanctions.
Length:
902 miles (1,443 km)
Capacity:
200,000 b/d
Start:
2022
Completion:
2025