AGA Chair Diane Leopold Brings Positive Outlook to Challenging Period for Industry
4/1/2020
By Jeff Awalt, Executive Editor
Diane Leopold became chair of the American Gas Association just in time for an unprecedented economic shutdown in response to the coronavirus pandemic.  The circumstances present significant challenges to utilities and all of their stakeholders, forcing a shift in priorities, and few in the industry would be as well-prepared to help lead the organization through troubled times.
Leopold currently serves as executive vice president and co-chief operating officer for Dominion Energy, overseeing three operating segments: Gas Transmission & Storage, with 16,000 miles of natural gas transmission, gathering and storage pipelines, gas storage operations and the Cove Point LNG facility; Gas Distribution, which has four gas local distribution companies serving nearly 3 million customers in Idaho, North Carolina, Ohio, Utah, West Virginia and Wyoming; and Dominion Energy South Carolina, a natural gas and electric utility serving 1.1 million customers.
She previously held senior-level positions in business development, generation construction and gas infrastructure. She was named president of Dominion's Natural Gas Business Unit in January 2014, CEO in January 2017 and was promoted to executive vice president in May 2017. She assumed her current role in December 2019.
Leopold is a member of the board of trustees of Virginia Union University and recently served as chair of the Interstate Natural Gas Association of America. She also is on the GO Virginia Foundation Board and is a member of the board of directors of Markel Corporation.
She graduated from the University of Sussex in the United Kingdom in 1989 with a bachelor's degree in mechanical and electrical engineering, then received a master's degree in electrical engineering (energy conversion, power and transmission) in 1993 from George Washington University and an MBA in 1998 from Virginia Commonwealth University.
We spoke with Leopold in late March to get her thoughts on the gas utility industry's response to the coronavirus and to hear her other priorities as chair of AGA.
P&GJ: This must be a very challenging time to take the helm at AGA. Overall, how do you think the gas utility industry has responded to the coronavirus?
Leopold: This certainly is a challenging time for all Americans, and I believe we are rising to the challenge. I've been inspired by the dedication of our healthcare professionals and first responders, and by the resilience of everyday Americans. We are facing unprecedented challenges, but it is bringing out the best in us.
America's natural gas utilities have really stepped up to plate. We've been vigilant in protecting the safety and health of our employees and our communities, while at the same time continuing to meet our customers' most critical needs and ensuring the safety, compliance and reliability of our system. We've provided assistance to help those facing financial difficulty, and we've supported the relief efforts in our communities. Americans have plenty to worry about right now, and we're doing everything in our power to make sure affordable, reliable energy isn't one of them.
Lastly, I want to say how incredibly proud I am of our natural gas utility workers. Their dedication has been remarkable. They have shown tremendous care in looking out for their own safety and for each other. And even as they face the many challenges we're all dealing with at home, they have never wavered in their commitment to our customers.
P&GJ: Let's first talk about the steps the industry has taken to protect employees. What are the most important precautions gas utilities have taken so far?
Leopold: Protecting our employees and our communities has been our top priority. That's the best way to prevent the spread of the virus and to make sure we are able to serve our customers. We're closely following the CDC's guidance for travel, social distancing and safe hygiene. At this point, we're requiring all employees who can do so to work from home. Obviously there are some mission-critical roles that cannot be done remotely, so we're taking all necessary precautions to keep them safe.
We're also providing assistance to employees who are personally impacted by the virus. Many companies are providing additional paid leave for employees who are sick, caring for sick family members or looking after children home from school. Many are also providing free testing and telemedicine services, which have been very effective as a first line of care.
P&GJ: I'm sure one of the challenges you face is keeping employees safe when they're entering customers' homes. Would you outline some of the specific precautions the industry is taking to protect employees and customers in these situations?
Leopold: Yes, that's something we've focused on a great deal. Utilities across the country have done a great job of sharing best practices for home entry and making sure we're taking all necessary precautions. At a minimum, if no one in the home is experiencing symptoms and have not come into contact with anyone else who has, we're wearing protective gloves, safety glasses and maintaining a safe distance from everyone in the home.
In cases where someone in the home is experiencing symptoms or has come into contact with anyone else who has, we're taking additional precautions, including fitted goggles, protective suits and N-95 or better masks. It's also important that we safely dispose of PPE after we leave the home, and we're all following very clear guidelines for that.
P&GJ: You mentioned earlier that, in addition to health and safety, you've also been very focused on serving customers. How has the gas delivery system held up during the pandemic?
Leopold: Half of all Americans depend on us every day to provide energy to their homes and businesses. That includes the hospitals, grocery stores and other vital services that are critical to the pandemic response. It also includes making sure people have heat, hot water and cooking when they are sheltered in place. They're counting on us now more than ever, and I'm proud to say we're delivering.
Our gas distribution system is extremely reliable. Our critical facilities have remained fully operational, and gas has continued flowing to our customers. Our customer service operations have also done a tremendous job providing assistance and support, most often from home rather than from a centralized call center. This has been a testament to leadership and emergency preparedness, but also the operational excellence of our people. I can't say enough about the extraordinary dedication and care they have shown for our customers throughout this crisis.
Lastly, we recognized early on that many of our customers would face financial difficulty, so we took immediate action to help. Utilities across the country suspended late fees and service disconnections for non-payment, reconnected those who had been disconnected, and offered bill assistance for those struggling to keep up. We know our customers depend on us to meet their most critical needs, and they shouldn't have to worry about losing service during this critical time.
P&GJ: A lot of companies have stepped up to donate essential supplies and support relief efforts in the community. How have gas utilities supported these efforts?
Leopold: At a time like this, it's so important that we come together as a nation and help in whatever way we can. I've been encouraged by the generosity of all Americans and the many ways we're supporting each other. Families are looking out for one another. Communities are supporting those in need. Relief organizations are doing incredible work, and American companies have been very generous with their support.
America's natural gas utilities have always been there to support our communities, and we're stepping up now more than ever. Utilities across the country have donated masks, body suits and other urgently needed supplies to local hospitals. We've donated millions of dollars to the American Red Cross, United Way and countless other relief organizations. We're also supporting local food banks and energy assistance programs to make sure seniors and other vulnerable Americans don't go without nutrition or energy at this critical time. 
P&GJ: Before we wrap up, I'd like to ask about some of your other priorities as AGA chair. What are the top issues you'd like to tackle over the next year?
Leopold: Before this crisis hit, we were focused on three priorities – Protecting our People, Preserving the Planet, and Picturing the Potential. Said differently – safety of our colleagues, our customers and our communities, action in addressing climate change, and innovation. Certainly, our response to the pandemic is of critical importance and is our top priority for the foreseeable future.
However, I want to be clear that this does not mean that we are going to put the climate action aside. Our customers are looking to us for leadership and solutions, and we have to answer their call with bold action on the climate.
We have made enormous progress on reducing methane emissions, increasing energy efficiency programs and investing in renewable natural gas. We have made a big difference in bending the emissions curve and moving our nation toward a clean energy future. But, that was in the past. If we want to continue to be part of the solution, there is much more we can and must do.
Utilities across the country are eager to accelerate the progress we've made, and I look forward to working with them to achieve that. This started with AGA approving a Climate Change Position Statement late last year, but we expect to take this even further as we are driven to reduce our own emissions and to support the decarbonization of the economy more broadly.
P&GJ: From your perspective, what are the most important steps the industry can take to demonstrate leadership on the climate?
Leopold: There is a robust dialogue in our country about the best path forward on climate change. The good news is, most of us agree on the importance of the issue and the end goal. What people disagree on is the path to get there. It's up to us to show that we are committed to solving this challenge and that we have a clear path to get there.
From my perspective, there are three primary ways we can do that. First, we have to clearly demonstrate that we are reducing emissions as much as possible and as fast as possible. Second, if we want natural gas to be part of the solution, then we have to show that we're not only reducing our own emissions, but that we can help other sectors reduce their emissions as much as possible and as fast as possible. Third, we have to show a clear path to get to net zero emissions.
It's all about action. We need to let our actions demonstrate our commitment and to show the path forward. I think that's the best way to show leadership, and it's the best way to persuade others that we're part of the solution.
P&GJ: Looking ahead, as you continue responding to a global pandemic and as you confront climate change, are you optimistic about the future of the natural gas industry?
Leopold: I must say that, despite the current challenges we all face in responding to the global pandemic, I remain as optimistic about our industry's future as I've ever been. America's natural gas utilities play a vitally important role in our society, and I believe most Americans recognize that. We have been put to the test, and we are rising to the challenge. From homes and hospitals to grocery stores and manufacturing plants, Americans know they can always depend on us to serve their critical needs when it counts the most.
I'm also optimistic about our ability to tackle climate change. The solutions are within our reach, and there is a greater resolve than ever before to put them into action. The private sector and the environmental community are working together, and so are different industries like energy, manufacturing, transportation and agriculture. If the coronavirus pandemic has taught us anything, it's that we can solve our greatest challenges if we just work together.  – P&GJ
Related News
Related News
Sign up to Receive Our Newsletter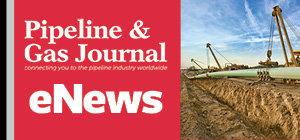 Pipeline Project Spotlight
Owner:
East African Crude Oil Pipeline Company
Project:
East African Crude Oil Pipeline (EACOP)
Type:
TotalEnergies in discussions with a Chinese company after Russian supplier Chelpipe was hit by sanctions.
Length:
902 miles (1,443 km)
Capacity:
200,000 b/d
Start:
2022
Completion:
2025