Tumbleweed Midstream Announces New Gathering and Processing Agreements
6/26/2020
(P&GJ) — Tumbleweed Midstream announced it has executed three new long-term gathering and processing agreements that have quadrupled helium production at its Ladder Creek Helium Plant in eastern Colorado. 
The company's Ladder Creek Helium Plant and Gathering System serves natural gas producers operating in eastern Colorado and western Kansas.
Two of the new agreements more than doubled the plant's inlet volume to 12 million cubic feet of natural gas per day. The third contract is expected to increase production by another 3 to 5 MMcf/d over the next 90 days. The increased throughput from these three agreements will increase the plant's daily helium output to more than 200,000 cubic feet per day (200 Mcf/d,) or approximately 65 million cubic feet (65 MMcf) per year.
In addition, Tumbleweed has executed two new helium processing agreements with suppliers of raw helium who deliver their unpurified gaseous helium to the Ladder Creek plant by truck.
Several new and existing producers in Colorado and Kansas have initiated exploration and development plans for helium-rich natural gas. Two existing step-out locations are being developed where previously drilled wells with helium-rich content have been stranded in the past.
Current processing capacity at the Ladder Creek cryogenic processing plant is 40 MMcf/d, expandable to 50 MMcf/d. Tumbleweed expects that the plant could be at capacity within the next 12 to 24 months.
The company will explore plant expansions as demand warrants.
"I am very excited about the rapid increase of natural gas throughput and the expanded helium production at the Ladder Creek Helium Plant," said Tumbleweed founder and CEO Durell Johnson.
The Ladder Creek Helium Plant uses state-of-the-art cryogenic processes to extract helium and natural gas liquids from raw natural gas. The helium is further purified to 99.999 percent, and its temperature is reduced to negative 458 degrees Fahrenheit for transport to customers as a liquid.
The Ladder Creek system is supported by long-term acreage dedications across a 1,000-square-mile area that spans Cheyenne, Kit Carson and Kiowa counties in Colorado and Hamilton, Greeley, Wichita, Kearney, Wallace and Finney counties in Kansas.
See system map here. 
Helium producers located long distances from Tumbleweed Midstream's Ladder Creek Gathering and Processing System ship unpurified gaseous helium to the Ladder Creek Helium Plant by truck.
Tumbleweed purifies raw helium from suppliers as far away as Arizona and Canada to meet buyer specifications and then liquefies it for transport to market.
Related News
Related News
Sign up to Receive Our Newsletter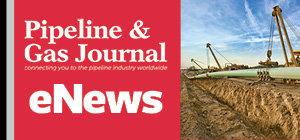 Pipeline Project Spotlight
Owner:
East African Crude Oil Pipeline Company
Project:
East African Crude Oil Pipeline (EACOP)
Type:
TotalEnergies in discussions with a Chinese company after Russian supplier Chelpipe was hit by sanctions.
Length:
902 miles (1,443 km)
Capacity:
200,000 b/d
Start:
2022
Completion:
2025