Kinder Morgan Reports Loss After $1 Billion Charge
7/23/2020
By Jeff Awalt, Executive Editor
HOUSTON (P&GJ) — Kinder Morgan reported a second-quarter net loss of $637 million after downgrading the value of some assets due to the market impact of Covid-19.  Without the $1 billion accounting change, it would have earned $363 million.
It was the second consecutive quarter in which impairments and divestitures outweighed otherwise-profitable results, leading to a net loss of $943 million through the first six months of 2020.  Even so, the Covid-19 crisis took its toll on Kinder Morgan's core business, most notably in transportation-driven refined products pipeline volumes.
"Sharp declines in crude oil and natural gas production along with reduced demand for refined products due to the economic shutdown in the wake of the pandemic clearly affected our business and will continue to do so in the near term," Kinder Morgan President Kim Dang said.
The company lowered its 2020 expectations for distributable cash flow (DCF) about 10% and Adjusted EBITDA (earnings before interest, taxes, depreciation and amortization) by more than 8%.
To offset the reduced cash flow, Kinder Morgan scaled back on a number of planned expansion projects "such that they are not needed at this time or no longer meet our internal return thresholds," due to the change in market conditions.  It has cut $660 million from its original 2020 budget of $2.4 billion for expansion projects and contributions to joint ventures.
"The result of this work on our capital budget and our costs is that our projected DCF, less discretionary capital spend, is actually improved versus our plan," CEO Steve Kean said in a conference call.
Despite the cuts, Kinder Morgan said its Permian Highway Pipeline (PHP) project is more than 75% mechanically complete and is expected to be placed in service in early 2021. The $2 billion project is designed to transport up to 2.1 Bcf/d of natural gas through approximately 430 miles of 42- inch pipeline from the Waha area to U.S. Gulf Coast and Mexico markets.
PHP is fully subscribed under long-term, binding agreements. Kinder Morgan Texas Pipeline (KMTP), EagleClaw Midstream and Altus Midstream each hold an ownership interest of approximately 26.7%, and an affiliate of an anchor shipper has a 20% interest. KMTP is building and will operate the pipeline.
Construction activities also are continuing on $260 million worth of projects to add 1.4 Bcfd capacity to its Texas intrastate system to meet future demand for Gulf Coast LNG, industrial, electric generation and gas utility markets. Construction of those expansion projects is on schedule, the company said, and they are expected to begin service by the end of the year.
Kinder Morgan also provided updates on other construction projects, including:
— Commissioning and startup activities are continuing at the Elba Liquefaction project, where a seventh unit was placed in service earlier in July. The final three units are expected to be placed in service this summer, Kinder Morgan said. Upon completion, the $2 billion Elba project will have a total liquefaction capacity of 2.5 million tons per year of LNG, equivalent to approximately 350 MMcfd of natural gas. The nearly $2 billion project is supported by long-term contracts with Shell.
— Tennessee Gas Pipeline (TGP) requested a certificate order from the Federal Energy Regulatory Commission (FERC) to authorize its East 300 Upgrade Project and is aiming to start construction in March 2022.  The $246 million expansion will upgrade and add compression facilities on TGP's system.  TGP has entered into a long-term, binding agreement with Consolidated Edison Company of New York, Inc. to provide 115,000 dekatherms per day (Dth/d) of capacity to their distribution system.
— An open season started July 13 on the Mier-Monterrey Pipeline system in Mexico and will conclude on Aug. 7.  Targeted in-service date is the second quarter of 2021. The $22 million pipeline project, which would expand existing system capacity by 35,000 MMbtu/d, is substantially anchored by a long-term, binding agreement.
— The $140 million El Paso Natural Gas (EPNG) South Mainline Expansion Project was placed in service on July 9. It increases EPNG's South Mainline system's capacity by approximately 203,000 Dth/d by modifying and expanding portions of the system in Texas, New Mexico and Arizona.  The project is designed to meet increased natural gas demand from Arizona electric utility providers and exports to Mexico while adding incremental delivery capacity into California.
— Construction is progressing on the Natural Gas Pipeline Company of America's (NGPL) Sabine Pass Compression Project, which is expected to be complete by October 1, 2020. Kinder Morgan has a 50% share of the $68 million project.  It is supported by a long-term take-or-pay contract and will add compression capacity on NGPL's Louisiana system to deliver more gas to the Sabine Pass Liquefaction facility in Cameron Parish.
— NGPL's $220 million Gulf Coast Southbound project is under construction, with completion slated for the first half of 2021.  Kinder Morgan owns half of the project, which will increase southbound capacity on NGPL's Gulf Coast System by approximately 300,000 Dth/d to serve Corpus Christi Liquefaction, LLC.
— NGPL also is working on the $52 million Lockridge to Waha Project with plans to place the extension in service by the end of the year.  Kinder Morgan holds a $26 million share in the project, which will enable NGPL to deliver up to 500,000 Dth/d to the Waha Hub with an extension of its Amarillo system, and is supported by long-term take- or-pay contracts.
Related News
Related News
Sign up to Receive Our Newsletter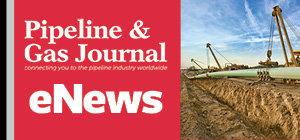 Pipeline Project Spotlight
Owner:
East African Crude Oil Pipeline Company
Project:
East African Crude Oil Pipeline (EACOP)
Type:
TotalEnergies in discussions with a Chinese company after Russian supplier Chelpipe was hit by sanctions.
Length:
902 miles (1,443 km)
Capacity:
200,000 b/d
Start:
2022
Completion:
2025