Investigation into Baltimore Explosion Finds Gas Utility Equipment Not to Blame
8/25/2020
(P&GJ) — Baltimore Gas and Electric (BGE) said its investigation into a recent gas explosion that killed two people and injured seven others found that the company's pipes and equipment were not responsible for the blast. 
"BGE has found that all of its equipment—gas mains, gas service pipes and gas meters, as well as electric equipment—has been operating safely and was not the cause of the natural gas explosion that occurred Aug. 10," the company said in a press release.
The utility said investigators are also examining customer-owned gas piping and appliances at the scene.  The investigation into the cause of the explosion is ongoing, and BGE said it will continue to provide assistance to federal, state, and city investigators.
As part of those efforts, BGE analyzed data from the gas and electric smart meters serving the properties involved in the explosion and has provided that data to the Baltimore City Fire Department and other investigators.
"The data from one gas meter was found to be indicative of some type of issue beyond the BGE meter on customer-owned gas equipment and is currently being analyzed by investigators," the company said.
Some news reports immediately after the explosion cited 2019 articles in The Baltimore Sun newspaper that reported gas leaks in BGE's system had become more frequent, according to regulatory filings.  BGE, however, said its detailed testing found that no system leaks were involved in the blast.
A portion of the gas main in the vicinity of the explosion and 38 gas service pipes for properties along in that portion of the main on Baltimore's Labyrinth Road were isolated from the area gas system and taken out of service after the explosion as a safety precaution while emergency rescue operations were underway, BGE said.
The following afternoon, the gas main and services successfully passed a re-pressurization test required to be placed back in service. Gas service pipes serving properties involved in the explosion also were pressure tested and were found to successfully hold pressure with no leaks, BGE said.
"The 1960s installation age and protected steel materials of the medium-pressure gas mains and service pipes serving the neighborhood where Labyrinth Road is located are very safe and highly reliable with low leak rates," BGE said.
"While BGE is undertaking a gas system modernization effort to replace aging, outmoded equipment throughout central Maryland, it is focused primarily on removal of low-pressure cast iron, unprotected steel and copper piping that make up less than 20 percent of the gas system but account for 70 percent of the leaks," BGE said.  "These materials are not used in the neighborhood where Labyrinth Road is located.
BGE has invested more than $560 million since 2014 in its STRIDE accelerated gas system modernization program and replaced 260 miles of gas main and 64,000 gas service pipes and risers throughout central Maryland, the company said.
Related News
Related News
Sign up to Receive Our Newsletter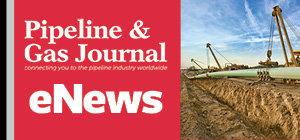 Pipeline Project Spotlight
Owner:
East African Crude Oil Pipeline Company
Project:
East African Crude Oil Pipeline (EACOP)
Type:
TotalEnergies in discussions with a Chinese company after Russian supplier Chelpipe was hit by sanctions.
Length:
902 miles (1,443 km)
Capacity:
200,000 b/d
Start:
2022
Completion:
2025