Atlantic Bridge Gas Compressor Station gets U.S. Approval
9/25/2020
WEYMOUTH, Mass. — The Federal Energy Regulatory Commission (FERC) has given Enbridge final approval to put the Weymouth natural gas compressor station into service.
The Weymouth station is part of Enbridge's Atlantic Bridge project, which is supported by contracts with local distribution companies and an industrial customer.
"The Weymouth Compressor Station will enable three local gas utilities in Maine and one in Canada to benefit from additional access to natural gas, helping homes and businesses switch from higher-emitting fuels to cleaner-burning natural gas," an Enbridge spokesperson said in an email.
The approval came less than two weeks after an accident during testing triggered an emergency shutdown that required workers to vent gas into the surrounding area.
That prompted politicians, including U.S. Sens. Edward Markey and Elizabeth Warren, to call for a suspension of operations pending a review of the incident.
Alice Arena of Fore River Residents Against Compressor Station said she was disappointed but not surprised by FERC's approval.
Atlantic Bridge is replacing a 6.3-mile (10-kilometer) section of pipeline from 26-inch-diameter pipe to 42-inch pipe in the existing footprint in New York and Connecticut. The project also involves a new meter station in Connecticut, modifications to various stations spread across several states, installations of four new compressor units at existing facilities, and the new compressor station in the community of Weymouth, just outside of Boston.
When completed, Atlantic Bridge will provide an additional 132,700 dekatherms of capacity on the Algonquin Gas Transmission and Maritimes & Northeast pipelines systems. It will bring additional capacity to serve gas markets in New England as well as New Brunswick and Nova Scotia.
In execution since July 2015, Atlantic Bridge was originally targeted for in-service in November 2017. Because the project spans multiple states, the permitting process is quite complex. This requires a significant amount of change management to work through the requirements and requests of the various regulatory authorities.
"The regulatory environment in New York specifically and New England in general has been particularly challenging," said Paul Grosskopf, director of Enbridge's major projects group. "While timelines for permits have been less than predictable, the project team continued to focus on ensuring we follow through on our commitments with the agencies.
Enbridge has said it plans to begin delivering gas by Oct. 1.
- Associated Press/WGBH and P&GJ staff report

Related News
Related News
Sign up to Receive Our Newsletter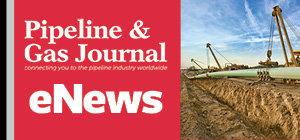 Pipeline Project Spotlight
Owner:
East African Crude Oil Pipeline Company
Project:
East African Crude Oil Pipeline (EACOP)
Type:
TotalEnergies in discussions with a Chinese company after Russian supplier Chelpipe was hit by sanctions.
Length:
902 miles (1,443 km)
Capacity:
200,000 b/d
Start:
2022
Completion:
2025