Minnesota Approves Enbridge Line 3 Pipeline Project
11/13/2020
By Jeff Awalt, Executive Editor
(P&GJ) — Minnesota regulators approved Enbridge's $2.6 billion Line 3 pipeline replacement project, a critical step in the regulatory process that paves the way for a U.S. Army Corps of Engineers decision on federal permits.
The Minnesota Pollution Control Agency (PCA) signed off on the project, including a 401 Water Quality Certification that drew heavy opposition from environmental activists, and the Department of Natural Resources (DNR) approved the last eight state permits required for construction to begin.
"Clearly this is a big day for Line 3 in Minnesota," said Leo Golden Vice President of Line 3 Execution. "These authorizations and approvals are an important step towards construction for this safety and maintenance focused replacement project which comes at an important time for Minnesota."  
Enbridge has operated Line 3 since 1968, with the Canadian portion of the pipeline stretching from Hardisty, Alberta, to Gretna, Manitoba, and the U.S. portion delivering oil to Superior, Wisconsin. Plans to replace the aging pipeline have been in the making since 2013.
Line fill of the 665-mile (1,070-km) Canadian segment of the Line 3 replacement pipeline was completed in mid-November 2019.  That replacement pipeline in Canada connects to the existing U.S. Line 3 at the Manitoba-U.S. border. Enbridge had hoped to bring the full system online this year, adding takeaway capacity for Canadian oil sands producers to the U.S. Midwest.
The authorizations and permits approved Thursday by the Minnesota DNR range from a license for utility crossing of state land and public water to water appropriation for dust control, hydrostatic testing and horizontal directional drilling.
Enbridge confirmed it has now received all ten of the DNR permits and authorizations needed for that work to proceed on the replacement project once it receives federal approval.
"We are planning to begin construction as soon as those (federal permits) are in hand," Enbridge spokesperson Juli Kellner said. "Once construction begins, it is expected to take between six to nine months to complete."
Opponents of the project contended Line 3 would pose an ongoing environmental threat, but Enbridge said it designed the project to operate safely and successfully argued that replacing an aging pipeline with new, modern construction is the best option for protecting the environment.
Kellner reiterated those points on Friday, describing a "thorough, robust, science-based review of the project over the past six years that led to a series of evidence-based approvals.
"Enbridge recognizes that the permit conditions required by the PCA and DNR are essential for protecting Minnesota's sensitive streams and wild rice waters during construction and planning for post-construction restoration and enhancement," Kellner said.
The new Line 3 has a rated capacity of 760,000 bpd, but Enbridge has said it would run at about half of its capacity (400,000 bpd) until the Minnesota portion is approved, constructed and brought onstream.
Related News
Related News
Sign up to Receive Our Newsletter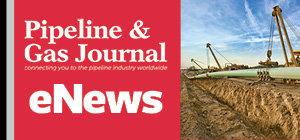 Pipeline Project Spotlight
Owner:
East African Crude Oil Pipeline Company
Project:
East African Crude Oil Pipeline (EACOP)
Type:
TotalEnergies in discussions with a Chinese company after Russian supplier Chelpipe was hit by sanctions.
Length:
902 miles (1,443 km)
Capacity:
200,000 b/d
Start:
2022
Completion:
2025