Keystone XL Adds Contractors for U.S. Spreads
12/1/2020
HOUSTON (P&GJ) – Six U.S. union construction companies were awarded about $1.6 billion in contracts recently to build portions of the Keystone XL pipeline. The project's owner, TC Energy, expects the work to get underway in 2021.
The companies receiving contracts were: Michels of Brownsville, Wis.; Precision Pipeline of Eau Claire, Wis.; Barnard Pipeline of Bozeman, Mo.; Price Gregory International of Katy, Texas; and U.S. Pipeline and Associated Pipeline, both of Houston.
"The selection of our U.S. construction contractors for 2021 is an important next step in employing thousands more American union workers and delivering tangible benefits to local communities and businesses," said Richard Prior, president of Keystone XL Pipeline.
According to a statement on its website, Price Gregory will construct 155 miles of large-diameter pipeline in Keya Paha, Boyd, Holt and Antelope counties in Nebraska, and Lyman and Tripp counties in South Dakota.
The company anticipates employing about 1,200 people over the course of the two-year construction period and has committed to hiring locally with priority given to qualified local businesses to support its efforts.
If all goes according to plans, Price Gregory expects its construction activities to begin in the summer of 2021, near Winner, S.D., and finish near Norfolk, Neb., in 2022.
"We are proud to put Price Gregory employees to work on completing the pipeline, which is also expected to provide a boost to local economies along the pipeline route, and look forward to working with TC Energy," said Robert Bell, president and CEO of Price Gregory.
Previously, Michels said it is building eight pump stations for the Keystone XL in Montana, South Dakota, Oklahoma and Texas, and expects to complete the work during the first quarter of 2021.
During peak construction, Michels Corporation said it will employ more than 350 people on the facilities projects.
According to TC Energy, in addition to the 10,000 direct jobs created in United States, the Keystone XL Pipeline is expected to contribute $55 million in property taxes in the first year of operation alone.
The 36-inch pipeline, which will transport up to 830,000 bpd from Hardisty, Alberta, to Steele City, Neb., prior to connecting to pipelines to Illinois and the Gulf Coast, has been delayed repeatedly since it first became a focal point of U.S. political opposition in 2011, two years after it was proposed.
Related News
Related News
Sign up to Receive Our Newsletter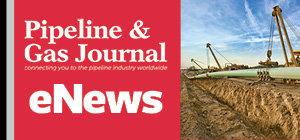 Pipeline Project Spotlight
Owner:
East African Crude Oil Pipeline Company
Project:
East African Crude Oil Pipeline (EACOP)
Type:
TotalEnergies in discussions with a Chinese company after Russian supplier Chelpipe was hit by sanctions.
Length:
902 miles (1,443 km)
Capacity:
200,000 b/d
Start:
2022
Completion:
2025