TC Energy's Louisiana Pipeline Projects Should Expand Gulf Coast Natural Gas Access
8/15/2021
By Maddy McCarty, Digital Editor
TC Energy is progressing with pipeline-related projects in Louisiana that should help deliver more natural gas to high-demand markets along the Gulf Coast and beyond.
The proposed Alberta Xpress (AXP) and in-progress Grand Chenier Xpress (GCXP) projects should both enhancing the ANR Pipeline system to help broaden the reach of low-cost, domestically produced natural gas to high and rising demand markets, according to TC Energy. The system transports natural gas from Texas, Oklahoma and Louisiana to Wisconsin, Michigan, Illinois and Ohio.
GCXP is adding a new compressor station in Jefferson Davis Parish, modifying the Grand Chenier and Eunice Compressor stations in Cameron and Acadia parishes, and installing new pipeline facilities (mainline valves) on the existing ANR pipeline. The project will expand the ANR pipeline system to connect supply directly to Gulf Coast LNG export facilities, TC Energy said.
Construction began in December and the first phase of the project went into service in April, the company said, and the second phase is expected to be placed in service early next year.
"GCXP offers a transportation solution that leverages ANR's existing infrastructure," TC Energy said.
"Once complete, the project will enhance the reliability and flexibility of the ANR system."
The proposed AXP is a market-driven response to rising demand for natural gas on the Gulf Coast and beyond, TC Energy said.
The U.S. Energy Information Administration (EIA) projects that U.S. consumption of natural gas will average 82.5 Bcf/d this year, down 1% from 2020, according to its Short-Term Energy Outlook. However, the residential, commercial and industrial sectors are all projected to consume more natural gas in 2021 than they did in 2020, with the electrical power sector as the exception because of electric power generators switching to coal due to rising natural gas prices, according to EIA.
EIA projects overall natural gas consumption to rise again to 83.78 Bcf/d in 2022, compared to a record high of 85.15 Bcf/d in 2019.
TC Energy expects an update from the Federal Energy Regulatory Commission regarding the project in late 2021 or early 2022. AXP would utilize existing capacity on the ANR pipeline system and Great Lakes Gas Transmission (GLGT) system, according to the fact sheet.
The project would result in an addition of 165,000 Dth/d of incremental firm transportation capacity from the GLGT Emerson receipt point in Manitoba, Canada, to delivery locations along ANR's Southeast Mainline in the Midwestern and Southern U.S., the fact sheet states. As part of the ANR expansion, a new compressor station would be built in Evangeline Parish, Louisiana, with a targeted in-service date of fourth-quarter 2022.
Related News
Related News
Sign up to Receive Our Newsletter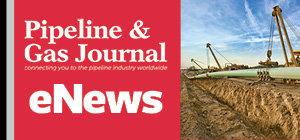 Pipeline Project Spotlight
Owner:
East African Crude Oil Pipeline Company
Project:
East African Crude Oil Pipeline (EACOP)
Type:
TotalEnergies in discussions with a Chinese company after Russian supplier Chelpipe was hit by sanctions.
Length:
902 miles (1,443 km)
Capacity:
200,000 b/d
Start:
2022
Completion:
2025