Petroleum, Energy Organizations Combine to Form Energy Workforce & Technology Council
2/1/2021
The Petroleum Equipment & Services Association (PESA) and the Association of Energy Service Companies (AESC) announced they will combine to create a new organization, the Energy Workforce & Technology Council.
The council will represent more than 600 energy technology and services companies in the global energy supply chain providing solutions to enable a low-carbon future, safely, profitably, and sustainably. Industry-recognized workforce development opportunities through trainings, certifications, best-practice sharing and standards development from the legacy organizations of PESA and AESC will continue to be a flagship of the new council. The organization will elevate and promote the vital role this sector plays in the economy, the innovative technology it develops and deploys, and its leading role in the energy transition.
PESA President Leslie Beyer will serve as CEO of the newly formed council, which will be headquartered in Houston and include 15 regional chapters across the U.S. and two international chapters in Dubai and Buenos Aires. Former AESC Executive Director Kenny Jordan will serve as the council's vice president.
"These companies are fostering innovation that will shape our industry and improve our changing world," Beyer said.  "The Energy Workforce & Technology Council will help our members transform the energy industry by encouraging collaborations and stimulating partnerships that include the oil and gas workforce as critical solution providers."
"The council will be an important voice to connect, educate and advocate for energy companies' workers of today and the future," said Council Co-Chair Rod Larson, president and CEO of Oceaneering International. "The foresight and expertise of the council will also elevate our industry with government, partners and communities around the globe."
PESA's long-term partnership with the U.S. Departments of State and Commerce to train foreign and civil service officers in industry technology, as well as industry-leading certification programs in Leadership Development, Inclusion, Diversity & Equity, and ESG will now be complemented by AESC's long-standing collaboration with the Occupational Safety and Health Administration, and National Institute for Occupational Safety and Health.
"PESA has been a leader on energy transition and ESG issues, while the AESC has always been a standard-bearer in industry safety," said Council Co-Chair Gay Wathen, Vice President Mobile Rig, NOV Inc. "Combining these two organizations will enable greater focus on the core values of innovation and visionary collaboration."
The council will promote the interests of the more than five million men and women of the global energy supply chain. As the industry strives for an increasingly lower-carbon future, the expertise of this highly skilled workforce will develop the scalable technologies to achieve targeted emissions goals. Located in the emerging global technology hub of Houston, the council will promote the next technological advancements across the energy spectrum.
Andy Knapp, former Senior Director, U.S. Federal Government Affairs, Upstream, BP America, Inc. will join the council as Senior Advisor Sustainability and ESG. In this role, Knapp will oversee the council's ESG Training and Certification programs, cross-industry best-practice sharing, award-winning ESG Center of Excellence, and committee work.  Tim Tarpley, SVP Government Affairs & Counsel, will continue to lead all domestic and international policy issues for the group. Molly Determan, COO, will oversee daily operations of the organization including the council's certification, standards, and training programs.
Related News
Related News
Sign up to Receive Our Newsletter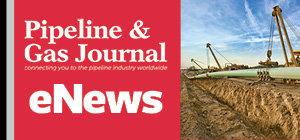 Pipeline Project Spotlight
Owner:
East African Crude Oil Pipeline Company
Project:
East African Crude Oil Pipeline (EACOP)
Type:
TotalEnergies in discussions with a Chinese company after Russian supplier Chelpipe was hit by sanctions.
Length:
902 miles (1,443 km)
Capacity:
200,000 b/d
Start:
2022
Completion:
2025