U.S. LNG Exports Exceed Natural Gas Pipeline Exports
2/4/2021
By Energy Information Administration (EIA)
Monthly U.S. exports of liquefied natural gas (LNG) exceeded natural gas exports by pipeline by nearly 1.2 billion cubic feet per day (Bcf/d) in November 2020, according to the U.S. Energy Information Administration's (EIA) Natural Gas Monthly. Previously, this has happened only once since 1998, when in April 2020, LNG exports barely exceeded pipeline exports that month by 0.01 Bcf/d.
Preliminary estimates for December 2020 and January 2021, based on the shipping data provided by Bloomberg Finance, L.P., suggest a continuation of this trend. In November and December 2020, U.S. LNG exports set two consecutive monthly records at 9.4 Bcf/d and 9.8 Bcf/d, respectively, and set another monthly record in January 2021 at 9.8 Bcf/d. In the January Short-Term Energy Outlook, EIA forecasts that U.S. LNG exports will exceed natural gas exports by pipeline in the first and fourth quarters of this year and on an annual basis in 2022, as global natural gas and LNG demand recover to pre-COVID-19 levels.
Since November 2020, all six U.S. LNG export facilities have been operating near full design capacity. In December, Corpus Christi LNG facility in Texas commissioned its third and final liquefaction unit (referred to in the industry as a train) six months ahead of schedule, bringing the total U.S. liquefaction capacity to 9.5 Bcf/d baseload (10.8 Bcf/d peak) across six export terminals that include 15 standard-size liquefaction units and 10 small modular liquefaction units.
From November 2020 through January 2021, monthly U.S. LNG export volumes were almost three times higher than the monthly export volumes in the summer months of 2020. The recent significant increase in U.S. LNG exports has been driven by rising international natural gas and LNG prices, particularly in Asia, following a sustained period of significantly-below-normal temperatures in the key LNG-consuming countries in northeast Asia, as well as reduced global LNG supply caused by unplanned outages at several LNG export facilities worldwide. EIA forecasts that U.S. LNG exports will average 9.8 Bcf/d in February 2021, before declining to seasonal lows in the shoulder months, and will average 8.5 Bcf/d and 9.2 Bcf/d on an annual basis in 2021 and in 2022, respectively.
U.S. gross exports by pipeline to Mexico and Canada also grew in 2020, averaging 7.9 Bcf/d in the first 11 months of the year, 3% higher than during the same period in 2019, according to EIA's NGM. Although pipeline exports to Canada declined by 5% in the first 11 months of 2020, U.S. pipeline exports to Mexico grew during the same period once the final segment of the pipeline system connecting the U.S. Permian Basin (Waha region) in West Texas with Mexico's central-western Guadalajara region was brought online. Completion of the second phase of the Cempoala compressor station in the state of Veracruz in September 2020 has increased natural gas flows from southeast Texas via Sur de Texas‒Tuxpan underwater pipeline (2.6 Bcf/d capacity) into Mexico's southern states on the Yucatan peninsula and in the central region. Completion of Mexico's Samalayuca-Sásabe pipeline (0.47 Bcf/d capacity), which came online in January 2021, and the scheduled completion of the Tula‒Villa de Reyes pipeline (0.89 Bcf/d capacity) later this year are expected to further increase U.S. pipeline exports to Mexico.
Related News
Related News
Sign up to Receive Our Newsletter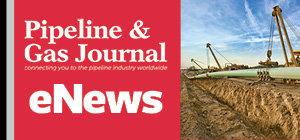 Pipeline Project Spotlight
Owner:
East African Crude Oil Pipeline Company
Project:
East African Crude Oil Pipeline (EACOP)
Type:
TotalEnergies in discussions with a Chinese company after Russian supplier Chelpipe was hit by sanctions.
Length:
902 miles (1,443 km)
Capacity:
200,000 b/d
Start:
2022
Completion:
2025