NG Energy Provides Construction Update on GTX Pipeline, Facilities
7/19/2021
NG Energy International provided an update on the construction progress of the production facilities that will connect the Maria Conchita block in Colombia to the country's national gas transportation system.
Easement agreements have been reached with the communities surrounding the stretch of flowline connecting the plant, located at the Instanbul-1 platform, to the Arachura-1 well. The communities will receive the compensations established by Colombian law and will benefit from the generation of employment and development on their territories. This flowline consists of 4.2 km (2.6 mi) and installation began satisfactorily in accordance with the provisions of the environmental license issued by the National Environmental Licensing Authority for the block.
The company expects SORC Ingenieria, the contractor in charge of the buildout of the gas pipeline, to complete all pipeline facilities by the end of Q3 or beginning of Q4 2021.
To date, GTX has contracted $7.3 million of the $10 million of the debenture raised for the pipeline construction in November 2020 and will continue with the finalization of the compression contract.
Enefenco Group, in charge of the Engineering, Procurement and Construction contract for the buildout and assembly of the plant and all complementary systems, already has most of the equipment required for the plant construction onsite; specifically, the dehydration system, generators of gas and diesel, the cooling chiller, the coalescing filter, valves and separators. Enefenco also reported that it has made significant advances in carrying out the tests that guarantee that the equipment complies with the API510 standards.
Related News
Related News
Sign up to Receive Our Newsletter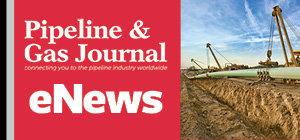 Pipeline Project Spotlight
Owner:
East African Crude Oil Pipeline Company
Project:
East African Crude Oil Pipeline (EACOP)
Type:
TotalEnergies in discussions with a Chinese company after Russian supplier Chelpipe was hit by sanctions.
Length:
902 miles (1,443 km)
Capacity:
200,000 b/d
Start:
2022
Completion:
2025