Tellurian's Reduced-Emission Pipeline Should Play Role in Cleaner Energy Future
7/18/2021
By Maddy McCarty, P&GJ Digital Editor
A longtime partnership with Baker Hughes should help Tellurian Inc.'s Driftwood Pipeline place a natural gas pipeline with 99% reduced carbon dioxide emissions in service in 2026.
Tellurian said its wholly owned subsidiary, Driftwood Pipeline, last month submitted a formal application with the Federal Energy Regulatory Commission (FERC) to construct and operate Line 200 and 300, an approximately 37-mile, dual 42-inch diameter interstate pipeline that would originate near Ragley in Beauregard Parish, Louisiana, and end near Carlyss in Calcasieu Parish, Louisiana.
Tellurian anticipates beginning construction on the project in early 2022 and for it to become operational in 2026, said Joi Lecznar, who works in EVP public and government affairs for Tellurian.
The new pipeline has been designed and routed to connect a supply 21 miles north of Lake Charles, Louisiana, to the demand located within and south of Lake Charles, bypassing what has become a constrained, complex and expensive transportation pathway, Tellurian said.
Driftwood Pipeline is proposing to deploy Baker Hughes-supplied electric-driven compression as part of the pipeline design, thereby reducing the pipeline's carbon dioxide emissions by more than 99%. The proposed pipeline project, coupled with other strategic steps Tellurian is taking, will lead to nearly a one-million-ton reduction per year in direct greenhouse gas emissions (a 14% overall reduction).
Baker Hughes is a longtime partner of Tellurian and "very supportive of all our efforts," Lecznar said.
Partnership is one of the ways the industry advances toward net-zero carbon emissions by 2050, according to Baker Hughes.
"We believe it will take energy producers, technology and service providers, energy buyers, policymakers, and the community at large working closely together to achieve our collective ambitions," the company says.
Baker Hughes emphasized reliance on hydrocarbons will not disappear, so efficiency matters.
"For at least the next 30 years, oil and gas will continue to play an important part of meeting global energy demand – even in the most aggressive of energy transition scenarios," Baker Hughes said on its website. "Efficiency solutions are critical to reducing scope 1 and 2 emissions."
The International Energy Agency makes the same assertion, noting global electricity demand is growing faster than renewables, driving a strong increase in the generation from fossil fuels. Global electricity demand will grow by about 5% this year and 4% next year, according to IEA's semi-annual Electricity Market Report, but even with renewable electricity generation set to grow as well, it will only be able to meet around half the projected increase in demand.
"Fossil fuel-based electricity generation is set to cover 45% of additional demand in 2021 and 40% in 2022, with nuclear power accounting for the rest," the IEA news release said. "As a result, carbon emissions from the electricity sector – which fell in both 2019 and 2020 – are forecast to increase by 3.5% in 2021 and by 2.5% in 2022, which would take them to an all-time high."
Coal emits carbon dioxide at a rate about 83 to 95% higher than natural gas, positioning natural gas to continue to play a role in clean energy.
Driftwood Pipeline is also investigating the development of a pipeline to deliver gas to the Driftwood LNG facility, which is a developing LNG production and export terminal on the west bank of the Calcasieu River, south of Lake Charles, Louisiana. The proposed 96-mile feed gas pipeline would deliver to the facility an annual average of 4 Bcf/d of natural gas. 
LNG is an essential tool as the world seeks to reduce air pollution, Lecznar said.
"It enables developing nations to meet their environmental goals while at the same time providing a source of reliable, accessible and affordable energy for all," she said.
According to FERC's website, the agency has not yet placed Driftwood Pipeline's application on a meeting agenda.
"This new and completed pipeline design provides definitive and measurable results for emissions reduction and is another step in Tellurian's overall strategy to support and balance the world's energy needs and environmental concerns," President and CEO Octávio Simões said. "Tellurian will continue to explore ways to collaborate with the U.S. Administration and contribute to its plan for a cleaner climate with a focus on upending energy poverty domestically and abroad."
Related News
Related News
Sign up to Receive Our Newsletter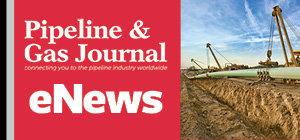 Pipeline Project Spotlight
Owner:
East African Crude Oil Pipeline Company
Project:
East African Crude Oil Pipeline (EACOP)
Type:
TotalEnergies in discussions with a Chinese company after Russian supplier Chelpipe was hit by sanctions.
Length:
902 miles (1,443 km)
Capacity:
200,000 b/d
Start:
2022
Completion:
2025