Naturgy Trims Earnings Growth Forecast as Power Prices Squeeze Margins
11/10/2021
MADRID (Reuters) — Spanish gas and power group Naturgy trimmed its 2021 earnings forecast on Wednesday after reporting a boost from rebounding power demand and higher prices for gas globally that was offset by lower margins on electricity in Spain.
It forecast full-year ordinary EBITDA, not including extraordinary items, of 3.8-3.9 billion euros ($4.4-5 billion) - an increase on its 3.7 billion euros last year but lower than previous guidance for as much as 4 billion euros.
A combination of low inventories, demand to fuel post-pandemic economic recoveries and tighter supplies from Russia have pushed gas prices higher this year.
This boosted margins in Naturgy's international gas business but contributed to higher wholesale electricity prices at home in Spain, weighing on its power supply business.
However, the company said the volatile third quarter should not be seen as an indication of the outlook for the rest of the year.
"Results were impacted by some of the contracts to our final customers in gas and electricity that do not reflect substantial increases in gas and electricity procurement costs," global head of controlling Jon Ganuza told analysts on a conference call.
Shares fell 1.3% by 1050 GMT.
Meanwhile, an expansion of the Medgaz pipeline that brings gas from Algeria to Spain will be completed by the end of the year, Naturgy said, adding this meant the end of a contract to use another via Morocco would not impact security of supply.
Ganuza said Naturgy was talking to Algeria and Morocco about a potential extension to the Maghreb-Europe concession anyway.
"It is something that would be sensible for all," Ganuza said, but he added that the end of the contract was known about well in advance so "we do not need those volumes currently for this winter".
He said the company's "base case scenario" was failing to meet a satisfactory agreement with the two other countries, who have severed diplomatic ties.
"If we were to be able to reach any agreement with Algeria that would be at most an upside," Ganuza said.
With its roots in gas lighting in Barcelona in the 1840s, Naturgy has become a major trader of natural gas and is now trying to shift to low-carbon energy sources seen as vital to reducing planetary warming.
In the longer term, it aims for annual ordinary core earnings of around 4.8 billion euros in 2025. 
Related News
Related News
Sign up to Receive Our Newsletter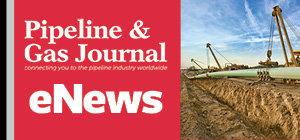 Pipeline Project Spotlight
Owner:
East African Crude Oil Pipeline Company
Project:
East African Crude Oil Pipeline (EACOP)
Type:
TotalEnergies in discussions with a Chinese company after Russian supplier Chelpipe was hit by sanctions.
Length:
902 miles (1,443 km)
Capacity:
200,000 b/d
Start:
2022
Completion:
2025