SoCalGas Testing Hydrogen Blending in Infrastructure and Appliances in Closed Loop System
9/30/2021
Southern California Gas Co. (SoCalGas) announced it is blending hydrogen to fuel a household system and appliances at its Engineering Analysis Center and Centralized Training Facility. 
As part of the testing, technicians are measuring the performance of common household appliances like stoves, wall heaters and forced-air furnaces when they are fueled with a blend of hydrogen and natural gas. This is the next step moving out of the lab and toward future blending into the natural gas grid, with an emphasis on safety and training. 
SoCalGas is among the first utilities in the nation to test the effects of a hydrogen blend on natural gas infrastructure and equipment in a controlled field environment. This effort utilizes the same engineering and technology that will be used to blend into the natural gas grid in the future. The use of hydrogen, either blended with natural gas, or delivered via a dedicated pipeline, is one important component of SoCalGas' strategy to achieve net zero emissions in its operations and the energy it delivers by 2045.
Preliminary results of testing that began earlier this summer show the household natural gas appliances are compatible with up to a 20% hydrogen blend. These initial findings are consistent with previous international research and lab testing. This effort provides key operational and safety experience, including testing for pipeline leaks, that will enable SoCalGas to implement larger scale hydrogen blending demonstrations.  SoCalGas continues to test the impacts of blending hydrogen with natural gas on pipelines and appliances.
Furthermore, separate National Renewable Energy Laboratory (NREL) analysis and several international industry studies have indicated the potential to blend hydrogen into existing distribution pipelines serving end use customers.
"In a net zero emissions California, clean fuels like hydrogen will play an essential role in supporting a reliable electric grid, in eliminating emissions from hard-to-electrify sectors of the economy, like transportation and industry, and in making the transition to a clean energy economy affordable," said Neil Navin, vice president of clean energy innovations for SoCalGas. 
Several analyses, including the Los Angeles Renewable Energy Study (LA100) by the Los Angeles Department of Water and Power (LADWP) and NREL, highlight the need, in 2045, for renewably produced and storable fuels to maintain reliability in the power sector.
SoCalGas is actively engaged in more than 10 pilot projects related to hydrogen, including a partnership with Netherlands-based HyET Hydrogen on technology that could transform hydrogen distribution and enable the rapid expansion of hydrogen fueling stations for fuel cell electric vehicles (FCEVs). The technology would allow hydrogen to be easily and affordably transported via the natural gas pipeline system, then extracted and compressed at fueling stations that provide hydrogen FCEVs.
Related News
Related News
Sign up to Receive Our Newsletter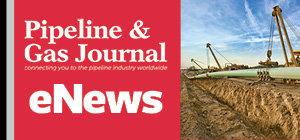 Pipeline Project Spotlight
Owner:
East African Crude Oil Pipeline Company
Project:
East African Crude Oil Pipeline (EACOP)
Type:
TotalEnergies in discussions with a Chinese company after Russian supplier Chelpipe was hit by sanctions.
Length:
902 miles (1,443 km)
Capacity:
200,000 b/d
Start:
2022
Completion:
2025