Pipeline Capacity Growth Fuels Record Haynesville Gas Production
4/13/2022
By Jeff Awalt, Executive Editor
HOUSTON (P&GJ) — Natural gas production from the Haynesville shale reached record highs in late 2021 and remained relatively strong in early 2022 on expanded pipeline takeaway capacity and higher demand, a new U.S. Energy Information Administration (EIA) report revealed Wednesday.
Haynesville natural gas production reached 12.5 Bcf/d in November of 2021 and has been averaging about 12 Bcf/d since, the report's author, Office of Energy Production & Markets Economist Kathryn (Katy) Fleury, told P&GJ.  Haynesville production accounted for about 13% of all U.S. dry natural gas production in February 2022, she said.
The Haynesville shale of northeastern Texas and northwestern Louisiana is the third-largest shale gas-producing play in the United States. It has gained momentum mostly due to the growing demand for natural gas to feed expanding LNG liquefaction and export facilities along the Louisiana and Texas Gulf coasts.
The Appalachian Basin's Marcellus play remains the highest-producing shale gas play in the United States, producing an average 31.7 Bcf/d of natural gas during 2021. The oil-dominant Permian Basin, a major source of associated gas, averaged 12.4 Bcf/d for all of 2021, making it the second-highest producing play. The Haynesville averaged 11.2 Bcf/d in 2021.
The three basins together accounted for 52% of U.S. dry natural gas production.
Natural gas production in the Haynesville declined steadily from mid-2012 until 2016, due to its relatively higher cost to produce natural gas compared with other producing areas, according to the EIA report.
"At depths of 10,500 feet to 13,500 feet, wells in the Haynesville are deeper than in other plays, and drilling costs tend to be higher. By comparison, wells in the Marcellus in the Appalachian Basin are shallower—between 4,000 feet and 8,500 feet," Fleury wrote. 
"Years of relatively low natural gas prices meant it was less economical to drill deeper wells," the report continued. "However, because natural gas prices have increased since mid-2020, producers have an incentive to increase the number of rigs in operation and use those rigs to drill deeper wells."
Pipeline capacity growth
Production growth in the Haynesville has been facilitated by expanding pipeline takeaway capacity out of the Haynesville in recent years.
Projects have included Enbridge Midcoast Energy's CJ Express pipeline, which entered into service in April 2021, and Enterprise Products Partners' Gillis Lateral pipeline.  In addition, the associated expansion of Enterprise's Acadian Haynesville Extension entered into service in December 2021.
Those three projects added 1.3 Bcf/d of takeaway capacity from the Haynesville area, raising its total estimated takeaway capacity to 15.9 Bcf/d, according to PointLogic. That figure suggests excess takeaway capacity out of the Haynesville is at or below 900,000 Mcf/d, or about 7% of total capacity.
More recently, Energy Transfer said it has started construction of the 1.65 Bcf/d  Gulf Run pipeline to move gas from the Louisiana Haynesville to the Gulf Coast.
That project, which Energy Transfer gained via its acquisition of Enable Midstream in December 2021, is backed by a 20-year agreement with the $10 billion Golden Pass LNG export plant now under construction in Texas by QatarEnergy (70%) and Exxon Mobil (30%) .
Energy Transfer has said it expects to complete Gulf Run by the end of 2022.
Marshall McCrea, Energy Transfer's co-CEO, told analysts earlier this year that the Dallas-based company was still working on its own LNG export project at Lake Charles in Louisiana.
"We hope to be able to announce some agreements that we are close to getting signed over the next few years," McCrea said, noting the company was "still a ways from FID but we are really excited about where that project is going."
Related News
Related News
Sign up to Receive Our Newsletter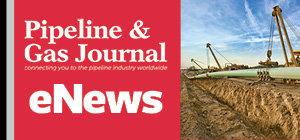 Pipeline Project Spotlight
Owner:
East African Crude Oil Pipeline Company
Project:
East African Crude Oil Pipeline (EACOP)
Type:
TotalEnergies in discussions with a Chinese company after Russian supplier Chelpipe was hit by sanctions.
Length:
902 miles (1,443 km)
Capacity:
200,000 b/d
Start:
2022
Completion:
2025