Equitrans Nixes Summer Start of Mountain Valley Pipeline
2/23/2022
By Jeff Awalt, Executive Editor
HOUSTON (P&GJ) — Equitrans Midstream on Wednesday said it is no longer targeting a previously announced summer 2022 startup of Mountain Valley Pipeline (MVP) and is not yet able to provide an update on the project's in-service timing or overall cost.
Equitrans included the latest project details in announcement of its full-year and fourth quarter 202 financial and operational results, reporting $1.2 billion in net cash from operating activities and record annual gathered volumes of 8.3 Bcf/d for 2021 but a net loss of $1.59 billion for the fourth quarter and $1.4 billion for the year.
The results were negatively impacted by a $1.9 billion impairment charge related to MVP resulting from its ongoing legal and regulatory challenges and the delay in targeted in-service.
It was Equitrans' first quarterly earnings report since a U.S. appeals court in late January invalidated federal approvals for the long-delayed MVP, and the Canonsburg, Pennsylvania-based company used the make its first substantive comments on that decision.
"While we are pleased with the strong performance of our base business, we are extremely disappointed in the recent decisions by the Fourth Circuit Court to vacate and remand MVP's Jefferson National Forest crossing permit and Biological Opinion," Thomas F. Karam, Equitrans chairman and chief executive officer said in a news release.
"The Biological Opinion, in particular, underwent an extensive, year-long analysis of relevant, scientific data," he said, "and included an unprecedented level of review by federal agencies that far exceeded reviews for comparable infrastructure projects."
The U.S. Court of Appeals for the Fourth Circuit over the last month has invalidated key permits for the project issued by the U.S. Fish and Wildlife Service and the U.S. Forest Service.  The rulings marked the latest setback for the pipeline, which is years behind schedule and billions of dollars over budget.
Karam said Equitrans remains committed to completing the project and is actively engaging with federal agencies, legal counsel and its partners to evaluate the best path forward.
"This was the second time the Court issued judicial opinions that overruled the extensive federal regulatory review process undertaken by USFS, BLM and USFWS," he said. "The Court's decisions, which do not reflect traditional judicial deference, create greater uncertainty in our ability to bring this critical infrastructure project to completion, despite total project work being roughly 94% complete.
"We are no longer targeting a summer 2022 in-service and will provide an update following further discussions with the agencies and our partners," Karam said. Several analysts have said the court decisions would likely delay the project startup until 2023 or 2024.
MVP is owned by units of Equitrans, NextEra, Consolidated Edison, AltaGas and RGC Resources. Equitrans has a 47.8% ownership interest in the project and will operate the pipeline.
Wednesday's announcement came two days after NextEra said one of its units recorded an $800 million impairment charge related to MVP in the first quarter.
Equitrans reported that its operating revenue for the fourth quarter decreased by $120.5 million, compared to the same quarter last year, primarily from the impact of deferred revenue, although this was partially offset by higher revenue from improved gathering volumes. Operating expenses decreased by $1.3 million compared to the fourth quarter 2020.
Operating revenue for the full-year 2021 decreased by $193.8 million compared to 2020, Equitrans said, while operating expenses declined by $2.8 million compared to 2020.
Related News
Related News
Sign up to Receive Our Newsletter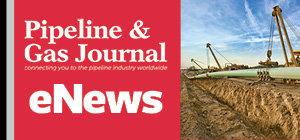 Pipeline Project Spotlight
Owner:
East African Crude Oil Pipeline Company
Project:
East African Crude Oil Pipeline (EACOP)
Type:
TotalEnergies in discussions with a Chinese company after Russian supplier Chelpipe was hit by sanctions.
Length:
902 miles (1,443 km)
Capacity:
200,000 b/d
Start:
2022
Completion:
2025