Mariner East Pipeline System Construction Complete, Commissioning in Progress
2/14/2022
By Maddy McCarty, Digital Editor
HOUSTON (PGJ) — After numerous delays and environment-related issues, Energy Transfer announced its Mariner East pipeline system construction is complete and commissioning is in progress. 
The Mariner East pipeline system transports natural gas liquids (NGLs) from the Marcellus and Utica shale areas in western Pennsylvania, West Virginia and eastern Ohio to destinations in Pennsylvania, including a processing plant, according to Energy Transfer.
Mariner East 1's propane and ethane lines entered service in 2014 and 2016, respectively. Mariner East 2 and Mariner East 2X are parallel lines that expand the network and will provide propane, ethane and butane services, the company said.
Energy Transfer started work on the $2.5 billion Mariner East 2 expansion in February 2017 and planned to finish the 350-mile (563-km) pipeline in the third quarter of 2017, Reuters reported, but state agencies stopped work several times, delaying that start until December 2018.
Mariner East 2X went into partial service in the fourth quarter of 2020, and though the full system was expected to be completed last year, Energy Transfer announced in its earnings call Wednesday that construction was complete. 
The full system will has about 670 miles (1,078 kilometers) of NGL transmission pipeline. Mariner East 1 has a capacity of 70,000 bpd and Mariner East 2 and 2X are expected to have a capacity of about 300,000 bpd. Mariner East 2 is mostly 20-inch pipe, and Mariner East 2X uses 16-inch pipe.
Pennsylvania has issued about 125 notices of violation to Mariner East since May 2017, Reuters reported, adding most notices related to drilling fluid spills.
In December, Sunoco Pipeline, a subsidiary of Energy Transfer and the builder of the pipeline, agreed to pay $4 million to the Pennsylvania Department of Conservation and Natural Resources, StateImpact Pennsylvania reported. The settlement allowed Mariner East to resume construction near Marsh Creek Lake State Park in Chester County, Pennsylvania.
Construction of the one-mile stretch of pipe there had been halted since the company spilled about 25,000 gallons of drilling mud into Marsh Creek lake in August 2020, the StateImpact report states.
Sunoco received approval from the Pennsylvania Department of Environmental Protection to change its installation method for a portion of the pipeline in Chester County from a horizontal directional drill (HDD) to an open cut on a section of the route spanning approximately 3,184 feet, Energy Transfer said.
Related News
Related News
Sign up to Receive Our Newsletter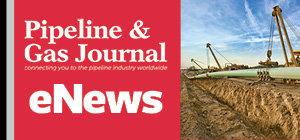 Pipeline Project Spotlight
Owner:
East African Crude Oil Pipeline Company
Project:
East African Crude Oil Pipeline (EACOP)
Type:
TotalEnergies in discussions with a Chinese company after Russian supplier Chelpipe was hit by sanctions.
Length:
902 miles (1,443 km)
Capacity:
200,000 b/d
Start:
2022
Completion:
2025