Operator Enagas to Invest $4.8 Billion in Gas Infrastructure, Hydrogen Projects by 2030
7/12/2022
(Reuters) — Spanish gas grid operator Enagas said on Tuesday it expects to invest 4.76 billion euros ($4.77 billion) by 2030 on projects to ensure security of energy supply and decarbonization.
Under its strategic plan to 2030, the company aims to spend nearly 2.8 billion euros on projects including gas infrastructure, renewable hydrogen and biomethane production.
When interconnector projects such as an underwater gas pipeline between Spain and Italy and a gas link between Spain and Portugal are added, the total investment sum comes to 4.76 billion euros, Enagas said.
Such interconnector projects form part of a 210 billion euro plan by the European Commission unveiled in May to reduce dependence on Russian fossil fuels and accelerate the energy transition.
The invasion of Ukraine by Russia, Europe's top gas supplier, has prompted the European Union to rethink its energy policies amid sharpened concerns of supply shocks. Russia supplies 40% of the bloc's gas and 27% of its imported oil.
"The strategic plan has one key purpose: to contribute to security of supply and decarbonization, which are two sides of the same coin," Enagas CEO Arturo Gonzalo Aizpiri said.
Renewable or green hydrogen is being touted as the future of energy, providing a flexible and zero-emission fuel for transport and electricity generation.
According to an initiative driven by 31 European transmission system operators, between 60% and 75% of European natural gas infrastructure can be reused for hydrogen.
Enagas plans to invest in 30 projects for renewable hydrogen production, as well as in infrastructure such as storage facilities.
By 2030, Spain could contribute 21 billion cubic meters, equivalent to 2 million tonnes of hydrogen per year, to Europe, which represents 20% of the hydrogen production expected in Europe, Enagas said.
The company expects its EBITDA or core earnings adjusted for dividends to reach a 2% compound annual growth rate and a net profit, including capital gains from asset rotation and an impairment related to U.S. firm Tallgrass Energy, of 380-390 million euros.
Enagas also confirmed it will increase a dividend by 1% per year in 2022 and 2023, to 1.70 euros per share and 1.72 euros respectively and maintain a dividend of 1.74 euros per share between 2024 and 2026.
($1 = 0.9987 euros)
Related News
Related News
Sign up to Receive Our Newsletter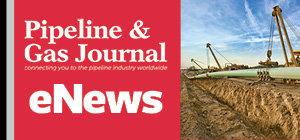 Pipeline Project Spotlight
Owner:
East African Crude Oil Pipeline Company
Project:
East African Crude Oil Pipeline (EACOP)
Type:
TotalEnergies in discussions with a Chinese company after Russian supplier Chelpipe was hit by sanctions.
Length:
902 miles (1,443 km)
Capacity:
200,000 b/d
Start:
2022
Completion:
2025