CERAWeek: No Short-Term Solution for European Gas Crisis, Says Tellurian CEO
3/10/2022
By Maddy McCarty, Senior Digital Editor
HOUSTON — Europeans are very lucky that it was a warm winter, panelists said during a CERAWeek by S&P Global energy conference session on Wednesday, referring to an ongoing natural gas crisis that start long before Russia invaded Ukraine.
"We are in a gas crisis that started two years ago and has been covered by Covid because of the supply and demand disruptions driven by the pandemic," said Snam CEO Marco Alvera during a session entitled, "The Future of Gas."
China is adding 15 million homes each year to its gas grid, which is good news for their residents, but represents the expanding demand for natural gas, Alvera said. He added that Europe and Asia are competing for winter LNG, which is a seasonal commodity. High natural gas prices started late last year in Europe, and blackouts in northern Europe were only avoided because it was a warm winter, Alvera said.
Now that Europe is avoiding importing from Russia, the world's largest exporter of natural gas, the demand for U.S. LNG will be even greater. This could lead to a new dynamic, where both continents may not have an alternative, Freeport LNG Founder and CEO Michael Smith said.
Freeport LNG was exporting about 65% of its product to Asia and 30% to Europe, but in the past couple of months, it has switched to exporting about 70% to Europe, Smith said. This switch was possible, because there are no destination restrictions for U.S. LNG and it can be flexible, he said.
No Easy Answers
"The issue is, how much more can we do? These plants take years and years to build," Smith said, noting that there is one new train being commissioned at the Calcasieu Pass Facility by Venture Global LNG. "That's it. There's no additional LNG that's coming online to bridge the gap for the gas that's going to be needed by Europe next year."
But in the next decade, U.S. LNG export capacity should be able to double, said Cynthia Hansen, Executive Vice President and President, Gas Transmission and Midstream for Enbridge. Currently, Enbridge feeds three out of four existing LNG facilities in the U.S., and it plans to feed four more, she said.
During a separate leadership dialogue session, Charif Souki, Executive Chairman of the Board for Tellurian, said the market looks "terrible" and there is no short-term solution. An energy crisis sparked by underinvestment became evident about a year ago, he said. "The best time to invest was five years ago," Souki said. "The next best time is today."
Along with underinvestment, some countries started to rely on technology that had not been developed and indulged in unrealistic solutions, he said. These elements, along with growing demand, a military crisis, and an impending economic crisis, have led the energy market to a state that needs to be fixed before the focus can shift to climate, Souki said.
Alvera feels that increasing hydrogen and renewable power will be part of the solution in Europe, and he said that Europe increasing its natural gas storage capacity could make the continent almost import-free during the winter.
In the meantime, Souki said Europe will transition back to coal, but they should ask the U.S. for as much LNG as possible. "They need our help; this is the time that we need to do it," he said.
Natural gas is essential to the energy transition, Hansen said, and a resource that we need to embrace.
"Natural gas is positioned to ensure that we have the energy we need from an equity security point of view," she said. "And to support lower carbon emissions, both here, in North America, and worldwide."
Related News
Related News
Sign up to Receive Our Newsletter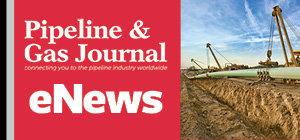 Pipeline Project Spotlight
Owner:
East African Crude Oil Pipeline Company
Project:
East African Crude Oil Pipeline (EACOP)
Type:
TotalEnergies in discussions with a Chinese company after Russian supplier Chelpipe was hit by sanctions.
Length:
902 miles (1,443 km)
Capacity:
200,000 b/d
Start:
2022
Completion:
2025