Inaugural Pipeline Technology Forum Delivers Pertinent Technical Information to Industry Professionals
3/30/2022
By Maddy McCarty, Senior Digital Editor
HOUSTON — Midstream engineers, owners and operators, consultants, advisors and other professionals gathered in Houston on Wednesday for the Pipeline Technology Forum, part of a two-day event that continues Thursday with the Pipeline Opportunities Conference Plus.
Pipeline & Gas Journal is holding the event in partnership with the Interstate Natural Gas Association of America (INGAA) and the SMU Maguire Energy Institute. The Pipeline Technology Forum had numerous technical sessions focusing on optimizing existing assets.
"The inaugural Pipeline Technology Forum was enthusiastically greeted by our attendees. I think we have our first-rate group of presenters to thank for that," said Pipeline & Gas Journal Editor-in-Chief Michael Reed.
One of those presenters was Russel Treat, president and CEO of EnerACT Energy Services, who spoke about natural compliance, a program/process approach using systems to execute the Plan-Do-Check-Act cycle and support safety.
Treat helped attendees understand the importance of gathering and organizing records for audit preparations, while noting that is no easy task, so he presented management systems to make it easier. He said while having a safe practice is extremely important, having records available to show the policies that ensure safety is more important during an audit.
"Absence makes the auditor stay longer," Treat said, resulting in a laugh from the audience.
Unifying program and process helps achieve natural compliance, and will contribute to successful task execution, he said.
Treat's presentation fell into the asset management category of presentations, while simultaneously, other presentations focused on pipeline integrity, assessment, and integrity management.
For the latter category, David Yoel, CEO of American Aerospace Technologies, Inc., spoke about machine learning and artificial intelligence in establishing key performance indicator standards for aerial patrol data products for imminent threats.
Pipeline Research Council International will release an initial evaluation of standards on the topic this year, he said.
Digital solutions are important, especially currently while most pipelines are running at 100%, because they are always on, never get tired, and provide immediate data and feedback, Yoel said.
For aerial pipeline monitoring, drones can be more efficient than manned aircraft because they are lighter, use less fuel, and are safer, he said. However, Yoel said a layered approach is required and satellites, aviation, drones, in-ground sensors, and other monitoring techniques all have a place, but it is still being determined what role each one should play.
Attendees traveled from near and far to go to the conference. Manjari Mittal, an advisor for HSB Solomon Associates, said she travelled from Dallas for the event because she wanted to gain knowledge about pipeline technology.
"This was a wonderful decision coming out here and being a part of this conference because I got to see what's going on in the industry and learn more from it," Mittal said.
She's always up for process improvements, and it was great to see other companies and presenters sharing theirs, she said.
The event continues Thursday with the 18th Annual Pipeline Opportunities Conference, where key energy stakeholders will provide strategic insight into the global pipeline industry. 
Related News
Related News
Sign up to Receive Our Newsletter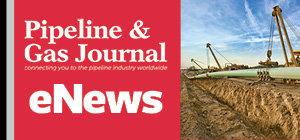 Pipeline Project Spotlight
Owner:
East African Crude Oil Pipeline Company
Project:
East African Crude Oil Pipeline (EACOP)
Type:
TotalEnergies in discussions with a Chinese company after Russian supplier Chelpipe was hit by sanctions.
Length:
902 miles (1,443 km)
Capacity:
200,000 b/d
Start:
2022
Completion:
2025