Ukraine Invasion Highlights Importance of Canadian Oil, Trans Mountain Pipeline Project
3/16/2022
By Maddy McCarty, Digital Editor
Canada is often underestimated when examining the global energy matrix, Deborah Yedlin said at a CERAWeek by S&P Global energy conference session discussing Canada's energy future.
Yedlin is the president and CEO of the Calgary Chamber of Commerce and Chancellor of the University of Calgary. Russia's invasion of Ukraine has put the spotlight back on Canada in terms of how it plays in the energy security picture, she said.
Yedlin noted that in the absence of the Keystone XL Pipeline that U.S. President Joe Biden effectively canceled on his first day in office, Canada can transport oil by rail to the United States.
But pipelines are much more efficient than rail, as one pipeline can move as much petroleum as 1,400 tanker truckloads or 441 tanker railcars, the Trans Mountain Expansion Project website notes.
 "Trans Mountain will be online next year, and that will allow barrels to travel west, and then south in the U.S.," Yedlin said during the session March 9.
The expansion project is essentially a twinning of the existing 715-mile (1,150-km) pipeline, which was built in 1953 and continues to operate safely, between Strathcona County, Alberta, and Burnaby, British Columbia, according to the website. It will increase the system's capacity from 300,000 bpd to 890,000 bpd.
The project plans to build about 609 miles (9,980 km) of new pipe and use 120 miles (193 km) of reactivated pipe. Most of the project, 73%, will use existing right-of-way, while 16% will follow other linear infrastructure such as telecommunications or highways and 11% will use new right-of-way.
Last month, Trans Mountain Corporation announced an update to the project cost and schedule, delaying the expected mechanical completion of the project to Q3 of 2023, and increasing the cost from C$12.6 billion ($9.85 billion) to C$21.4 billion ($16.8 billion).
Contributing factors to the delay and cost increase include the Covid-19 pandemic and the November 2021 floods in British Columbia, the company said.
"The progress we have made over the past two years is remarkable when you consider the unforeseen challenges we have faced, including the global pandemic, wildfires and flooding," said Ian Anderson, President and CEO of Trans Mountain Corporation. "At every step of the way, we have found solutions and responded. As a result, the project is advancing with significantly improved safety and environmental management, and with a deep commitment to ensure this project is being built the right way."
The announcement led the Canadian government to announce that it is halting any further public funding for the project and tell Trans Mountain Corporation to secure necessary financing from public debt markets or financial institutions. Finance Minister Chrystia Freeland said the project remains commercially viable and that public financing is a feasible option, Reuters reported.
The project is underpinned by 20-year shipper commitments.
The expansion of the pipeline system will allow more oil produced in Western Canada to go west to Trans Mountain's Westridge Marine Terminal in Burrard Inlet, rather than almost all of it going straight to the United States Midwest, the company says. This will expand the market and opportunities for this oil, potentially including countries in Asia Pacific experiencing a growing demand.
Though often discounted, Canada is a major player in the global energy market.
"The potential for Canada to make a difference is significant," Yedlin said.
Related News
Related News
Sign up to Receive Our Newsletter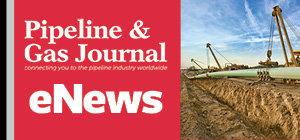 Pipeline Project Spotlight
Owner:
East African Crude Oil Pipeline Company
Project:
East African Crude Oil Pipeline (EACOP)
Type:
TotalEnergies in discussions with a Chinese company after Russian supplier Chelpipe was hit by sanctions.
Length:
902 miles (1,443 km)
Capacity:
200,000 b/d
Start:
2022
Completion:
2025