VVC Increases Natural Gas Production Capabilities with New Seven-mile Pipeline
5/9/2022
VVC Exploration Corp. announced that it has reached another significant milestone with the installation of seven miles of its internal gathering system pipeline — a major infrastructure enhancement to the company's Syracuse Project.
The new pipeline will seamlessly transport gas produced by the company's helium and natural gas wells to the Tumbleweed Midstream Ladder Creek Pipeline and for delivery to the Ladder Creek Helium Processing Plant in Cheyenne Wells, Colorado, where it will be processed into helium, natural gas, and natural gas liquids.
With this system in place, the company expects to shortly begin the completion of seven already drilled wells. The current capacity of the pipeline system is 50 wells, however the company plans to add additional capacity in the future.
"The completion of the internal gathering system represents a major step forward towards VVC becoming a significant producer of helium and natural gas," Tony Beilman, manager of Gas Operations and president of Foreland Operating, said. "With this strong foundation set, the company can now increase scope and scale of both the gathering system and the number of wells in operation in the Syracuse Project."
The Syracuse Project includes one newly drilled and connected helium well: Levens #2; seven drilled helium wells waiting for completion and connection to pipeline; seven additional helium well sites currently permitted and prepped for drilling; 15 identified well sites currently being permitted; 50 additional potential well sites; 16,400 acres located in Hamilton County, Kansas; and new leases continuing to be added on an opportunistic basis.
Related News
Related News
Sign up to Receive Our Newsletter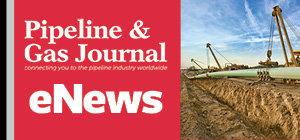 Pipeline Project Spotlight
Owner:
East African Crude Oil Pipeline Company
Project:
East African Crude Oil Pipeline (EACOP)
Type:
TotalEnergies in discussions with a Chinese company after Russian supplier Chelpipe was hit by sanctions.
Length:
902 miles (1,443 km)
Capacity:
200,000 b/d
Start:
2022
Completion:
2025