EU Approves $5.2 Billion in State Funding for Hydrogen Projects
9/27/2022
By Mary Holcomb, Digital Editor
(P&GJ) — The European Commission has approved 5.2 billion euros ($5.15 billion) in public funding for hydrogen projects. The commission claimed that this action could lead to an additional 7 billion euros ($6.7 billion) in private sector investments.
"Hydrogen can be a game changer for Europe," Ursula von der Leyen, EU's president, said. "It is key in diversifying our energy sources and helping us reduce our dependency on Russian gas. We need to bring this niche market to scale. That is why we are creating a Hydrogen Bank. And we will also increase our financial participation in important projects of common European interest. This will help enabling breakthrough innovation and positive spillovers for all of the EU economy and help power the economy of the future."
The project, called "IPCEI Hy2Use" was jointly prepared and notified by thirteen Member States: Austria, Belgium, Denmark, Finland, France, Greece, Italy, Netherlands, Poland, Portugal, Slovakia, Spain and Sweden.
The IPCEI will involve 35 projects from 29 companies, including small and medium-sized enterprises and start-ups, with activities in one or more member states. The direct participants will closely cooperate with each other through numerous planned collaborations, as well as with over 160 external partners, such as universities, research organizations and SMEs across Europe.
IPCEI Hy2Use will cover a wide part of the hydrogen value chain by supporting the construction of hydrogen-related infrastructure – notably large-scale electrolyzers and transport infrastructure – for the production, storage and transport of renewable and low-carbon hydrogen.
In addition, the project will support the development of innovative and more sustainable technologies for the integration of hydrogen into the industrial processes of multiple sectors, especially those that are more challenging to decarbonize, such as steel, cement and glass.
The IPCEI is expected to boost the supply of renewable and low-carbon hydrogen, thereby reducing dependency on the supply of natural gas.
Several projects are expected to be implemented in the near future, with various large-scale electrolyzers expected to be operational by 2024-2026 and many of the innovative technologies deployed by 2026-2027.
IPCEI Hy2Use follows and complements the first IPCEI on the hydrogen value chain, the IPCEI "Hy2Tech", which the Commission approved in July 2022. While both IPCEIs address the hydrogen value chain, Hy2Use focuses on projects that are not covered by Hy2Tech, namely hydrogen-related infrastructure and hydrogen applications in the industrial sector (while Hy2Tech focuses on end-users in the mobility sector).  
Aid to individual companies is limited to what is necessary, proportionate and does not unduly distort competition. In particular, the Commission has verified that the total planned maximum aid amounts are in line with the eligible costs of the projects and their funding gaps.
Furthermore, if large projects covered by the IPCEI turn out to be very successful, generating extra net revenues, the companies will return part of the aid received to the respective member state (claw-back mechanism).
The results of the project will be widely shared by participating companies benefitting from the public support with the European scientific community and industry, beyond the companies and countries that are part of the IPCEI. As a result, positive spill-over effects will be generated throughout Europe.
The completion of the overall project is planned for 2036, with timelines varying in function of the project and the companies involved.
Related News
Related News
Sign up to Receive Our Newsletter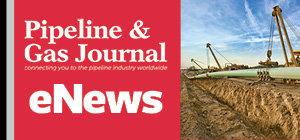 Pipeline Project Spotlight
Owner:
East African Crude Oil Pipeline Company
Project:
East African Crude Oil Pipeline (EACOP)
Type:
TotalEnergies in discussions with a Chinese company after Russian supplier Chelpipe was hit by sanctions.
Length:
902 miles (1,443 km)
Capacity:
200,000 b/d
Start:
2022
Completion:
2025