China's LNG Imports to Show Small Rebound in 2023
4/3/2023
(Reuters) — China's LNG imports fell sharply in 2022 because of the disruption caused by lockdowns to control the coronavirus epidemic and the massive exit wave of infections when they were lifted.
As the epidemic fades, resurgent manufacturing and service sector activity will increase gas consumption and is likely to tighten LNG supplies available to Europe ahead of winter 2023/24.
But the import rebound could be smaller than some analysts anticipate because domestic gas production is rising strongly and the country has mostly completed its transition to natural gas for urban residents.
Gas Import Dynamics
China's LNG imports fell by 16 million tonnes (-20%) in 2022 compared with 2021, according to data from the General Administration of Customs.
It was only the second time since 2006, when the country began importing LNG, that imports have fallen compared with the prior year.
Reduced LNG arrivals were only partially replaced by an extra 4 million tonnes (+9%) of pipeline gas from Russia and Central Asia.
Both LNG and pipeline imports remained subdued in the first two months of this year with any rebound delayed until later in 2023.
China's LNG purchasers have proved price-sensitive and will likely wait for prices to decline before increasing imports and refilling storage.
Even when imports eventually accelerate, the rebound may be shallow because the country is attempting to diversify its sources of supply by increasing domestic production and pipeline imports.
China's domestic gas production increased by 9 million tonnes (+6%) in 2022 compared with 2021 in response to high prices and government policies to cut reliance on imports.
Natural Gas Switch
At the same time, the deployment of natural gas to residential customers in urban areas, and conversion of existing customers from coal gas and bottled liquefied petroleum gas (LPG), has been substantially completed.
Gas was supplied to 98% of residents in urban areas by the end of 2021, up from 92% in 2011 and 60% in 2001, according to the National Bureau of Statistics (NBS).
Gas supply was available to 548 million urban residents in 2021, up from 378 million in 2011 and 216 million in 2001 ("China statistical yearbook", NBS, 2022).
But the number of residents supplied with natural gas has grown even faster as utilities have switched millions of households from bottled LPG and manufactured coal gas or gasworks gas.
The number of urban residents supplied with natural gas had grown to 442 million by the end of 2021 from 190 million in 2011 (compound annual growth of almost 9%).
Urban households were supplied with more than 41 billion cubic meters of gas in 2021 up from 13 billion cubic meters in 2011 (compound growth of 12%).
In contrast, the number of urban residents supplied with gas manufactured from coal in a gasworks had fallen to less than 5 million in 2021 from 27 million in 2011 (a compound annual decline of 16%).
More than half of the remaining residents using gasworks gas were in the province of Liaoning (2.4 million) with smaller numbers in Sichuan, Jilin, Guangxi, Heilongjiang, Shanxi, Gansu and Inner Mongolia.
The total volume of gasworks gas supplied to residential customers had shrunk to just 430 million cubic meters in 2021 down from 2.4 billion cubic meters in 2011 (compound annual decline of 16%).
Some 102 million urban residents were still using bottled LPG in 2021 but that was also down from 161 million residents in 2011 (a compound annual decline of 5%).
Most provinces still have a few million urban residents using LPG, with the largest concentrations in the south in Guangdong (26 million) and in the Lower Yangtze region in Zhejiang (11 million) and Fujian (5 million).
LPG is still used by 40% of urban residents in Guangdong, 37% in Fujian, 33% in Zhejiang and 25% in Jiangxi compared with just 9% in Hebei, the province surrounding Beijing and Tianjin.
The volume of LPG supplied to households had fallen to 4.9 million tonnes in 2021 from 6.3 million tonnes in 2011.
Pipelines Not LNG
The shift from LPG and especially gasworks gas has turbocharged consumption of natural gas over the last decade.
But the transition is now largely complete for coal gas, and well underway for LPG, which means residential consumption of natural gas is likely to grow more slowly in future.
Moreover, an increasing share of gas is likely to be sourced by pipeline from Russia and Central Asia, further limiting the growth in demand for LNG.
The Power of Siberia pipeline already delivers gas from Russia to north and northeast China but more transmission capacity is under development which will extend deliveries south to the Lower Yangtze region by 2025.
Extra transmission capacity will relieve the regional shortage of gas in Zhejiang, Fujian, Jiangxi and Shanghai where a total of 25 million residents were still relying on LPG in 2021.
Once the extension is complete, it will help the conversion of more LPG customers to natural gas - but they will be served by pipeline gas not LNG.
Related News
Related News
Sign up to Receive Our Newsletter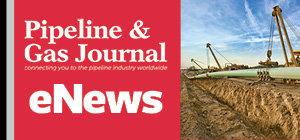 Pipeline Project Spotlight
Owner:
East African Crude Oil Pipeline Company
Project:
East African Crude Oil Pipeline (EACOP)
Type:
TotalEnergies in discussions with a Chinese company after Russian supplier Chelpipe was hit by sanctions.
Length:
902 miles (1,443 km)
Capacity:
200,000 b/d
Start:
2022
Completion:
2025