Malaysia's Petronas to Restart Gas Pipeline Operations by Q1 2024
4/12/2023
(Reuters) — Malaysia's national oil company Petroliam Nasional Berhad aims to restart a gas pipeline currently under force majeure by the first quarter of 2024, a senior company executive said on Wednesday.
"Our plan is to complete the work by Q1 2024," said Shamsairi Ibrahim, vice president of LNG marketing and trading at the company, known as Petronas. The facility's restart is subject to approval from local authorities, he said.
In October, Petronas declared a force majeure on gas supply to Malaysia LNG Dua due to a pipeline leak caused by soil movement at its Sabah-Sarawak Gas Pipeline.
The company aims to complete an investigation into the gas supply disruption by mid-2023.
The disruption had fueled fears of a supply shortage to customers, including Japanese utilities, but Petronas has said it would continue efforts to provide alternative supplies.
Target Market
In an interview with Reuters, Shamsairi also reiterated Petronas' wish to extend its long-term contracts with its Japanese customers, adding that discussions are ongoing.
Petronas has long-term supply contracts with Japanese gas distributors such as Tokyo Gas and Osaka Gas, some of which are due to expire this year and next.
Japan, Malaysia's top client, imported 12 million tonnes of LNG in 2022, up 19% from 2021, according to Japan's trade data.
"Not only (supplies from) Bintulu, but it is our aspiration to get a bit more (supplies) from Canada to Japan," he said, referring to the LNG Canada project in Kitimat, British Columbia, in which Petronas has a 25% equity stake.
The first phase of the project, set to be Canada's first LNG export terminal, is expected to begin shipments around 2025.
On its project in Argentina with state firm YPF, LNG supplies from there could go to markets like Europe and Asia if the project is realized, added Shamsairi.
The companies expect to make a final decision next year on whether to invest in the first phase of the $60 billion project.
"Europe is one of the markets we cannot ignore. Other than that, we potentially can bring it back to Asia Pacific," he said. "ASEAN also will be good, if it is economical to do that."
LNG Outlook
Shamsairi expects Asian spot LNG prices to remain at current levels or trend lower towards the third quarter, excluding the risk of an unusually warm summer, as major buyers China and Japan reduced consumption after prices spiked to record levels last year.
"If we have a mild summer, then there could be pressure on the LNG market," said Shamsairi.
"But nevertheless, (there will still be) the practice of Europe continuing to consume LNG due to its cessation away from Russian gas... Demand loss due to high prices will come back. This will be the balancing factor on price levels in the market."
Global gas prices surged last year after Russia cut supplies to Europe, forcing the bloc to import record amounts of LNG.
Asian LNG prices, however, have since fallen over 55% so far this year, easing to $12.50 per million British thermal units (MMBtu) last week on muted demand and high inventories.
China's energy demand is also expected to increase after the world's second largest economy emerged from strict COVID lockdowns last year, added Shamsairi, but growth of LNG demand may not be as aggressive as expected as the country diversifies its energy mix.
"LNG demand will continue to increase but the magnitude (of the demand growth) might be a bit lower than what we have experienced previously," he said.
Related News
Related News
Sign up to Receive Our Newsletter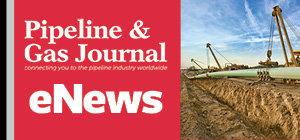 Pipeline Project Spotlight
Owner:
East African Crude Oil Pipeline Company
Project:
East African Crude Oil Pipeline (EACOP)
Type:
TotalEnergies in discussions with a Chinese company after Russian supplier Chelpipe was hit by sanctions.
Length:
902 miles (1,443 km)
Capacity:
200,000 b/d
Start:
2022
Completion:
2025