Sources: Baghdad Agrees to 30% Stake in TotalEnergies $27 Billion Iraq Energy Project
4/4/2023
(Reuters) — Baghdad has reached an agreement to hold a 30% stake in TotalEnergies long-delayed $27 billion Iraq project, three sources told Reuters on Tuesday, reviving a deal that Baghdad hopes could lure back foreign investment into the battered country which craves stability.
The deal was signed in 2021 for TotalEnergies to build four oil, gas and renewables projects with an initial investment of $10 billion in southern Iraq over 25 years.
But it has experienced several setbacks amid disputes between Iraqi politicians over terms.
Iraq, OPEC's second largest producer, has been for years plagued by war, corruption and sectarian tensions that have held back its potential.
Iraq's demand for a 40% share in the project was a key sticking point as TotalEnergies wants a majority stake.
The agreement to lower the share to 30% was struck after meetings in Baghdad over the past few days, an industry source said.
TotalEnergies did not immediately respond to a request for comment.
"The deal should be activated within days," a senior Iraqi oil ministry official said.
The project includes the construction of a natural gas gathering network to supply local power stations through the expansion of the Ratawi field, building a large-scale seawater treatment facility to boost output from other fields using water injection and a large solar power plant in the Basra region.
QatarEnergy will also take part in the consortium and will have a share in the project, sources with direct knowledge of the matter said.
Sources had told Reuters in January that QatarEnergy was looking at a stake in the project.
QatarEnergy did not immediately respond to a request for comment.
A major investment by a Gulf state in the project would also mark an important win for Iraqi Prime Minister Mohammed al-Sudani, who took office last October following more than a year of political turmoil, and would be considered a step towards countering Iranian influence.
A revival of the project is key to Baghdad's efforts to reverse the exit of oil majors from the country.
Exxon Mobil, Shell and BP have all scaled back their operations in Iraq in recent years, contributing to a stagnation in Iraq's oil production.
Iraq's oil production capacity has remained at around 5 million bbl/d in recent years. Yet at one time there had been hopes of rivalling top producer Saudi Arabia with its output of 12 million bbl/d, more than a tenth of global demand.
Related News
Related News
Sign up to Receive Our Newsletter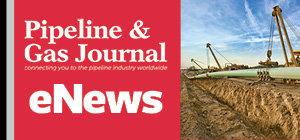 Pipeline Project Spotlight
Owner:
East African Crude Oil Pipeline Company
Project:
East African Crude Oil Pipeline (EACOP)
Type:
TotalEnergies in discussions with a Chinese company after Russian supplier Chelpipe was hit by sanctions.
Length:
902 miles (1,443 km)
Capacity:
200,000 b/d
Start:
2022
Completion:
2025