US Official: White House Got 'Heads Up' on OPEC Cut Plans, Disagreed with Move
4/4/2023
(Reuters) — The Biden administration told Saudi Arabia officials that it disagreed with OPEC's surprise decision to cut oil production when it was given a 'heads up' on the move, John Kirby, coordinator for strategic communications at the National Security Council, told reporters on Monday.
Oil prices jumped over 6% on Monday after the Organization of the Petroleum Exporting Countries and their allies including Russia announced on Sunday further production target cuts of about 1.16 million barrels per day (bbl/d) from May through the rest of the year.
"We don't think that production cuts are advisable at this moment, given market uncertainty. And we made that clear," Kirby said.
U.S. officials were notified about OPEC's plans to cut oil production before a Sunday announcement that surprised markets but they do not know why the decision was made, a White House official said.
"We were given a heads up," Kirby said.
Asked about reports that the cuts were related to the timing of the U.S.' replenishment of its Strategic Petroleum Reserve, Kirby said "I would just say that I can't even begin to speculate why this decision was made."
Kirby sought to downplay any tensions between the U.S. and Saudi Arabia, which pushed for production cuts last autumn that angered the White House and prompted the administration to call for a review of its relationship.
One big difference now is that global oil prices are around $80 per barrel, compared with $110 and $120 last year, he said, while adding that the White House is focused on consumers, not barrels. The administration will continue to work with producers to ensure growth and lower prices for consumers.
"We're not always going to agree...with everything that Saudi Arabia does or says any more than they're always going to agree with everything that we do or say, but that doesn't take away from the fact that it is a strategic partnership," Kirby said.
Related News
Related News
Sign up to Receive Our Newsletter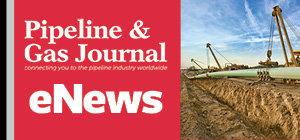 Pipeline Project Spotlight
Owner:
East African Crude Oil Pipeline Company
Project:
East African Crude Oil Pipeline (EACOP)
Type:
TotalEnergies in discussions with a Chinese company after Russian supplier Chelpipe was hit by sanctions.
Length:
902 miles (1,443 km)
Capacity:
200,000 b/d
Start:
2022
Completion:
2025