Australia Regulator Clears Way for Strike Vote at Chevron LNG Plants
8/11/2023
(Reuters) — Australia's labor regulator cleared the way for strike action at Chevron's Wheatstone and Gorgon LNG facilities if workers vote in favor of such a step, fueling concerns the country's exports could be cut.
The Fair Work Commission said in an order dated Thursday that the union could hold a ballot of employees to decide if they wanted to make a decision on taking industrial action.
Chevron and Woodside Energy Group have been holding talks with unions to avert threatened strikes over pay and conditions at Australian facilities that together supply about 10% of the LNG market. A drop in shipments would increase competition for the super-chilled fuel, forcing Asian buyers to outbid European buyers to attract LNG cargoes.
Dutch and British wholesale gas prices retreated on Thursday from a two-month intraday high the previous day after concerns faded over tight LNG supply due to the possible strikes.
Chevron said on Friday it was taking steps to ensure reliable operations can be maintained if any disruption happens.
"We continue to engage our employees and their representatives as we seek outcomes that are in the interests of both employees and the company," a spokesperson said.
The union, Offshore Alliance, declined to comment. On Thursday, it said it had not reached an agreement with Chevron on several issues including pay.
Credit Suisse analyst Saul Kavonic said the risk of strikes stopping production across the LNG plants for more than a week was exceptionally low.
"This is all part of union negotiations. While there will be loud rhetoric threatening large production outages as the unions and LNG companies test their positions, it is unlikely global supply will actually be impacted materially," he said.
Asia spot LNG prices LNG-AS rose on Thursday, tracking the jump in European prices on Wednesday, although trade sources said the markets had overreacted while they await more information about the strikes.
"We're seeing Chevron showing normal lifting schedule for October cargoes which indicates thinking that strikes, if they happen, will be short," a Singapore-based trader said.
A Singapore-based analyst expects Asia spot LNG prices to soften on Friday as gas stockpiles are rising and fundamentals remained weak.
"It's an overreaction though, up 30% at one point while the fundamentals globally are still generally weak," he added.
The sources declined to be named as they are not authorized to speak to media.
Secret Ballot
Industrial action in Australia, including strikes or work stoppages, must be approved by the Fair Work Commission before going to members for a vote.
The Fair Work Commission in its order said the union can conduct a "protected action ballot", which gives employees the chance to secretly vote on whether or not to initiate protected industrial action.
After a successful ballot, the union can decide whether to go ahead with action, which must take place within 30 days. Employers are given notice beforehand.
About 99% of workers at offshore platforms that supply gas to the Woodside-operated North West Shelf LNG plant, Australia's biggest LNG plant, backed industrial action in a vote whose results were made public on Wednesday. But the unions have not yet called for action there.
North West Shelf has an export capacity of 16.9 million metric tons a year. Gorgon, the country's second largest LNG plant, has capacity of 15.6 million tons a year and Wheatstone 8.9 million tons.
China and Japan are the top two lifters of Australian LNG, followed by South Korea and Taiwan.
Taiwan's economy ministry said it understands strike demands are still being discussed. "The current strike has caused market price fluctuations, but Taiwan's CPC's imported gas has not been affected."
"(We) will continue to maintain close contact with suppliers and adopt other gas source configurations in a timely manner in response to the export situation to ensure stable supplies."
Related News
Related News
Sign up to Receive Our Newsletter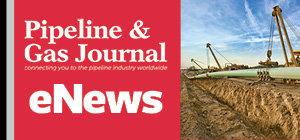 Pipeline Project Spotlight
Owner:
East African Crude Oil Pipeline Company
Project:
East African Crude Oil Pipeline (EACOP)
Type:
TotalEnergies in discussions with a Chinese company after Russian supplier Chelpipe was hit by sanctions.
Length:
902 miles (1,443 km)
Capacity:
200,000 b/d
Start:
2022
Completion:
2025