Equitrans Provides Root Analysis for 2022 Gas Leak at Pennsylvania Storage Facility
8/25/2023
(P&GJ) — Equitrans Midstream Corp. has submitted information to the Pipeline and Hazardous Materials Safety Administration (PHMSA) regarding the root cause investigation and analysis related to the Rager Mountain Storage facility incident that occurred in November 2022.
The comprehensive root cause analysis (RCA) was initiated promptly following resolution of the natural gas storage well venting incident and was conducted by an independent, third-party company with expertise in reservoir management and well and corrosion engineering. Additionally, the RCA activities were coordinated with PHMSA and the Pennsylvania Department of Environmental Protection (PADEP).
The third-party RCA team consisted of subject matter experts in several disciplines, including metallurgy, failure analysis, well construction and reservoirs, well logging, chemistry, and microbiology. The RCA was conducted using a systematic, evidence-based approach consisting of three phases: 1) analysis of Equitrans' Storage Integrity Management Plan (SIMP) and related processes; 2) data collection and analysis of physical evidence; and 3) use of the Apollo RCA method that integrated previous well logging data, drilling analysis, well deliverability and kill attempts, failure analysis, metallurgical observations, microbiological assessments, and reviews of Equitrans' internal standards/procedures and regulatory guidelines.
RCA Summary of Findings:
The direct cause of the venting from Rager well #2244 was due to water- and oxygen-induced corrosion on the outside diameter of the top joint of the well and the infiltration of organic/inorganic matter into the annulus, which resulted in a failure of the well casing. The primary root causes for this failure were identified as follows:
Magnetic wireline testing is the industry-standard used to identify potential corrosion on storage wells, and, in 2016, Equitrans' contractor performed wireline testing of all wells at Rager Mountain. The contractor processed the 2016 logging data using the algorithm technology available at the time, and the wireline report received by Equitrans for well #2244 identified limited corrosion levels, which did not require remedial action. Following the venting incident in 2022, the previous logging data for well #2244 was reprocessed using a recently available and updated algorithm technology, which revealed more extensive corrosion at the top of the well, confirming that the previous 2016 report was inaccurate.
The top joint corrosion could have potentially been mitigated by injecting corrosion inhibiting gel into the annular space between the inner and outer casings of well #2244.
Given the location of well #2244 and its vent, Equitrans' practice of keeping the annulus vent open to allow for the safe venting of gas permitted water, air, and solids to enter the annular space, which may have contributed to the potential exacerbation of corrosion.
Based on results of an inventory verification test conducted after the venting incident was resolved, Equitrans' initial gas loss estimate for well #2244 was approximately 1.29 Bcf. Following completion of the RCA, the cumulative gas loss was determined to be approximately 1.164 Bcf. Due to the restriction of the annulus valve, the RCA indicates approximately 1.037 Bcf of the total cumulative gas loss was vented to the atmosphere and roughly 0.127 Bcf was diverted to and contained within formation(s) located at approximately 1,800' and/or 3,000' below ground.
Equitrans' Mitigation Activities:
Equitrans worked with various third-party experts to confirm that all causes and/or contributors to the November 2022 incident were identified and addressed. The damaged casing on well #2244 has been replaced, and the well remains temporarily plugged. It has not yet been determined whether the well will be permanently plugged or returned to service.
Additionally, several other Rager wells have undergone top joint casing replacements to proactively address less-aggressive corrosion that was identified. Equitrans has also performed supplemental evaluation and testing, including updated wireline logging, on all other wells at the Rager Mountain facility, which is expected to allow the field to return to service, subject to PHMSA authorization.
Existing wireline reports for more than 180 wells at Equitrans' other storage fields have been reprocessed using the updated algorithm technology. Additionally, Equitrans has accelerated its overall wireline program and is expected to complete updated logging of approximately 100 wells in 2023. Furthermore, Equitrans is modifying its gelling requirements to provide inhibitor protection to wells that may be at risk of corrosion due to the presence of water or oxygen. Finally, as a means of additional future risk mitigation, Equitrans is completing a comprehensive review of its SIMP and related practices.
To address potential concerns related to the roughly 0.127 Bcf of migrated gas, Equitrans completed extensive field and laboratory soil and water well testing, which confirmed that no gas migrated to nearby residential areas.
With roughly 300 storage wells located across 18 storage fields, Equitrans remains focused on the timely completion of the work identified during the post-incident investigation as necessary and/or beneficial for the safe and environmentally responsible operation of its Rager Mountain facility and other storage fields. Equitrans continues to coordinate with PHMSA and other regulators in connection with their ongoing investigations of the incident.
Equitrans Midstream Addresses Rager Mountain Storage Facility Incident with Root Cause Analysis
Related News
Related News
Sign up to Receive Our Newsletter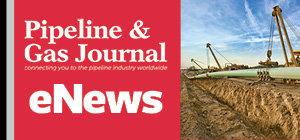 Pipeline Project Spotlight
Owner:
East African Crude Oil Pipeline Company
Project:
East African Crude Oil Pipeline (EACOP)
Type:
TotalEnergies in discussions with a Chinese company after Russian supplier Chelpipe was hit by sanctions.
Length:
902 miles (1,443 km)
Capacity:
200,000 b/d
Start:
2022
Completion:
2025