Fidelis New Energy to Develop Carbon Neutral Hydrogen Facility in West Virginia
8/22/2023
(P&GJ) — Fidelis New Energy LLC has selected Mason County, West Virginia, as the ideal location for its groundbreaking carbon neutral hydrogen production facility and low carbon microgrid — The Mountaineer GigaSystem, complemented by the Monarch Cloud Campus designed for data centers powered by net-zero hydrogen.
The Mountaineer GigaSystem will employ FidelisH2 technology, a proprietary innovation that allows for the production of hydrogen with absolutely zero lifecycle carbon emissions. This pioneering process is achieved through a blend of natural gas, renewable energy, and carbon capture, utilization, and sequestration (CCUS).
The project falls within the parameters of one of West Virginia's two designated "high impact industrial business districts," as outlined in Code 5B 2-21. With four phases in the pipeline, each projected to yield over 500 metric tons per day (MTPD) of net-zero carbon hydrogen, the estimated capital cost for each phase is around $2 billion, excluding associated investments in data centers and greenhouses. The inaugural phase of FidelisH2 production under the Mountaineer GigaSystem is anticipated to launch operations by 2028.
The net-zero carbon hydrogen generated will serve a wide array of purposes, spanning from carbon-neutral hyperscale data centers and transportation to greenhouses and steel production.
A key element in this venture is the incentive package offered by the West Virginia Department of Economic Development, facilitating geological assessments necessary for carbon capture and sequestration (CCS) permits. This, in turn, will lay the groundwork for clean hydrogen and CCS industries within the state, fostering employment opportunities and generating state revenue through safe and permanent underground CO2 storage.
Upon full implementation of all four phases of the Mountaineer GigaSystem, approximately 10 million metric tons of CO2 will be stored annually, translating to over $100 million in yearly revenue for West Virginia, equating to roughly $25 million per phase.
An operational agreement has been finalized between Fidelis and West Virginia, outlining the terms for targeted storage capacity and a pore space agreement that grants exclusive CCS rights in specific zones.
Energy Transition Technologies
Fidelis boasts a suite of patent-pending energy transition technologies geared toward decarbonizing challenging industries. Central to this suite is FidelisH2, an innovative hydrogen production approach that facilitates lifecycle carbon neutral hydrogen from natural gas and renewable sources. This suite encompasses H2PowerCool and CO2PowerGrow as well.
H2PowerCool taps into FidelisH2 hydrogen as a net-zero energy source for powering and cooling data centers, paving the way for carbon-neutral on-site data centers at the Mountaineer site. This obviates the need for off-site indirect carbon offsets or credits.
These technologies are earmarked for use in data centers at the Monarch Cloud Campus, situated on Fidelis-acquired land within the Mountaineer site, alongside additional acreage within Mason County. Upon full realization, the data center capacity could reach a remarkable 1,000 MW, constituting an investment of over $5 billion. Waste heat, in tandem with a portion of the captured CO2 derived from FidelisH2 production, will be channeled as inputs for co-located greenhouses, thereby decarbonizing food production and reducing costs.
Bengt Jarlsjo, co-founder, president, and COO at Fidelis, underscores the allure of their proprietary net-zero solutions, which have garnered substantial interest from hydrogen users, data center operators, and greenhouse proprietors. He notes their contribution to scaling the hydrogen lifecycle within the ARCH2 hub — a consortium that aligns industry, government, academia, technology institutions, NGOs, and communities across the Northern Appalachian region, with the shared goal of realizing a comprehensive clean hydrogen network, as envisioned by the United States Department of Energy.
In parallel with the broader project announcement, Fidelis has also unveiled a letter of intent with Babcock & Wilcox (B&W), aimed at bolstering the assessment, development, and execution of BrightLoop hydrogen projects at the Mountaineer site. This initiative targets the establishment of four 200 MTPD net-zero hydrogen production facilities. The BrightLoop technology empowers cost-competitive production of clean net-zero hydrogen from waste biomass and natural gas, augmented by carbon capture, utilization, and sequestration. This aligns seamlessly with the Mountaineer GigaSystem's overarching objectives.
Fidelis takes pride in its role as a project development partner through Mountaineer in the Appalachian Regional Clean Hydrogen Hub (ARCH2). This regional initiative fosters collaboration among private industry, local government, academia, technology bodies, non-governmental organizations, and communities across the Northern Appalachian region, collectively steering the creation of an integrated H2Hub solution that mirrors the United States Department of Energy's vision for a nationwide clean hydrogen network.
Furthermore, projects such as Mountaineer and their consequent economic impact on host states like West Virginia find their roots in the energy security and transition incentives legislated by Congress in the Inflation Reduction Act. Notable provisions encompass the Section 45V Production Tax Credit and 45Q Carbon Capture Tax Credits, pivotal in ensuring the economic viability of projects that boost energy security and foster the transition toward cleaner energy sources.
Related News
Related News
Sign up to Receive Our Newsletter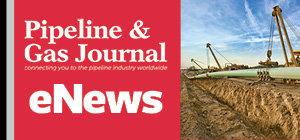 Pipeline Project Spotlight
Owner:
East African Crude Oil Pipeline Company
Project:
East African Crude Oil Pipeline (EACOP)
Type:
TotalEnergies in discussions with a Chinese company after Russian supplier Chelpipe was hit by sanctions.
Length:
902 miles (1,443 km)
Capacity:
200,000 b/d
Start:
2022
Completion:
2025