Oil Prices Fall 2% Despite Record US Crude Stock Drawdown
8/11/2023
(Reuters) — Oil prices settled down 2% on Wednesday despite a historic drop in U.S. crude stocks, as traders derisk following the downgrade of the U.S. government's top credit by a major ratings agency.
U.S. crude stocks fell in the week by 17 million barrels, the largest drop in U.S. crude inventories according to records dating back to 1982, the Energy Information Administration said on Wednesday. The draw was driven by increased refinery runs and strong crude exports.
Despite the record stock draw, U.S. oil prices fell amid falls across financial markets after rating agency Fitch downgraded the U.S. government's top credit rating.
U.S. crude futures settled down $1.88, or 2.3%, to $79.49 a barrel while Brent crude futures settled down $1.71, or 2%, to $83.20 a barrel.
Both contracts rose by more than $1 earlier on the session, buoyed by falling U.S. stockpiles in Tuesday's data from the American Petroleum Industry, which also indicated a large U.S. stockpile drawdown.
That the U.S. government has pulled an offer to buy 6 million barrels of oil for the Strategic Petroleum Reserve also pushed prices lower, traders and analysts said.
Total product supplied — a proxy for demand — also fell by 1.3 million barrels in the week to 20 million barrels per day, the EIA said.
"Gasoline demand seems to have peaked after higher prices at the pump," said Edward Moya, senior market analyst of the Americas at OANDA.
Crude oil inventories have also begun to drop in other regions as demand outpaces supply, which has been constrained by deep production cuts from Saudi Arabia, the de facto leader of the Organization of the Petroleum Exporting Countries (OPEC) said.
Concerns have risen that oil buying in China, the world's biggest oil importer, may slow as prices rise.
Weak PMI data released this week, meanwhile, indicated fuel demand may be weaker than expected.
"Chinese crude buying has been opportunistic rather than due to higher demand. (The) market continues to be driven purely by supply constraints, which are always subject to potential political volatility," said Sparta Commodities' Philip Jones-Lux.
Analysts expect Saudi Arabia to extend its voluntary oil output cut of 1 million barrels per day for another month to include September in a meeting of producers on Friday.
OPEC+, which groups OPEC and allies led by Russia, is unlikely to revise its current oil output policy when a panel meets on Friday, six OPEC+ sources told Reuters.
Related News
Related News
Sign up to Receive Our Newsletter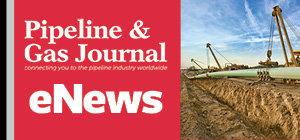 Pipeline Project Spotlight
Owner:
East African Crude Oil Pipeline Company
Project:
East African Crude Oil Pipeline (EACOP)
Type:
TotalEnergies in discussions with a Chinese company after Russian supplier Chelpipe was hit by sanctions.
Length:
902 miles (1,443 km)
Capacity:
200,000 b/d
Start:
2022
Completion:
2025